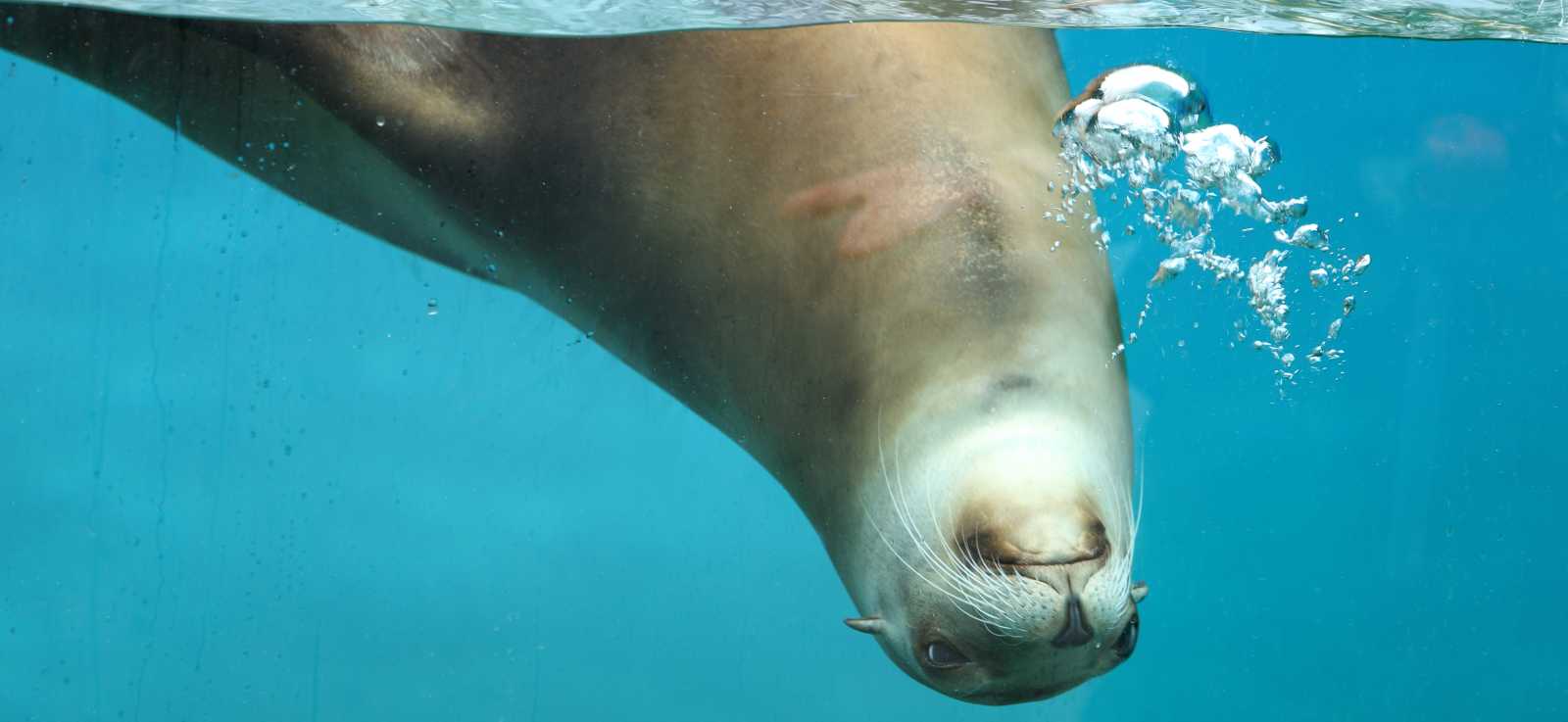 Camp Sea Quest: Virtual Summer Camp for Aspiring Marine Scientists
Join virtual summer camp with the largest marine mammal hospital in the world!
Rising 5th – 8th graders will dive into marine science from home with at-home activities and behind-the-scenes virtual experiences. All materials will be sent to campers in advance.
This week-long marine science camp is designed to give upper elementary and middle school-age youth the chance to dive into marine science and ocean conservation from the comfort of their home.
Through our interactive virtual community, campers will connect with one another as they discover the wonders of marine mammals near and far, and learn how we are all connected to the ocean.
All sessions of Camp Sea Quest 2021 are now full.
What's a Day at Virtual Summer Camp Like?
Each day will include a morning gathering, independent activities, discussions and daily reflection. Campers will join counselors in the morning for an hour-long Sea Circle where they'll have the opportunity to build relationships with peers and staff, share their own knowledge and experiences, and explore together before diving deeper into the theme for the day independently.
To provide families fun and flexibility, campers will choose from a menu of science-based activities they can complete at home, as well as behind-the-scenes virtual experiences of the hospital and marine mammal habitats. Activities will include science experiments, crafts, animal behavior monitoring and marine mammal identification that can be easily done at home with a few materials.
Counselors will be available throughout the day for support and discussions before an afternoon group closing when campers will review their findings and share reflections. Through our culture of creativity, curiosity and caring, campers will be empowered to positively impact their communities and develop important leadership, team-building, communication and problem-solving skills.
All materials needed for camp will be common household items or will be sent ahead of time to each camper, including printed materials. Campers will need reliable internet connection for the group meetings and access to a computer or tablet throughout the camp day to complete the activities.
Camp Sea Quest 2021
This year's camp takes a deep dive into the veterinary component of our work. Join us for a week where we will uncover the unique stories of our patients and experience what it takes to be the marine science experts who run the world's largest marine mammal hospital.
Themes and activities will be distinct and complementary to our 2020 virtual camp in order to welcome new campers and returners alike.
Rising 5th-6th Grade | July 12-16
Vet Detectives
Do you have what it takes to work at The Marine Mammal Center? Discover the hidden stories of our patients through the lens of veterinarians, scientists, engineers and educators who are committed to protecting our ocean. Join us for a week where we will uncover how our specialized team of experts are able to rescue, rehabilitate, research and ultimately release our patients back into the wild!
SOLD OUT
Rising 7th-8th Grade | July 19-23
Junior Marine Scientists
Ever wonder what it's like to be a marine science expert at The Marine Mammal Center? Join us to experience all the ways we care for marine mammals at the hospital through rescue, rehabilitation, research and education. Plus, we'll explore the careers of our experts who are dedicated to creating safer oceans for marine mammals and humans alike!
SOLD OUT
Virtual Marine Science Summer Camp Details
Cost: $125/week for members, $175/week for non-members. Price includes all required materials pre-mailed to each camper, a camp souvenir, and all virtual camp activities and supporting facilitation. (Scholarships are available.)
To receive the camp package that includes the souvenir and activity materials, please register for rising 5th & 6th graders by June 20 and rising 7th & 8th graders by June 27. If registration occurs after this date, we will provide the list of supplies needed for the week of camp.
We will meet with campers virtually from 10:30am-11:30am PDT, then campers will work on activities before meeting again at 3:00pm-3:30pm PDT to conclude their day of camp. Campers will have a series of activity options that can be completed in one to three hours depending on the camper's schedules, interests and lunch. Flexible support will also be provided throughout the day.
Caregiver check-ins will be scheduled prior to the start of camp and can be scheduled over the phone or used as a technology test.
Frequently Asked Questions
What will campers do all day?

There will be a virtual meeting every morning for an hour where they will learn about the theme for the day and their activity options. Campers will then have time to complete one of the three activities. They can choose to do one, two or all three! We will conclude each day with a half-hour review of what they learned.
Will my child be supervised while they complete their camp activities?

Staff will not supervise campers as they complete their activities. Activities are designed to be done independently or with a helper such as a sibling, parent or caregiver. Staff will be available online and by phone between the hours of 9am-5pm PDT to answer questions or have discussions with campers.
Will camp require computer or internet access? How about a printer?

Camp will require reliable computer or tablet access throughout the day. Internet access is crucial for the morning and afternoon Sea Circle. Some activities will require the internet, while others will not. A printer is not required.
What kind of space will children need for camp?

We hope campers can find a place that is quiet and comfortable. Some activities will give students the opportunity to explore outside if they choose!
How many activities will campers do per day?

Choose your own adventure is our motto! We will provide campers with three activity choices every morning and ask that they do one, however they have the choice to do two or all three. Activities are a combination of online and offline experiences.
Will there be opportunities for campers to make friends?

Camp Sea Quest has always been a space where campers can share their similar interests, especially their love for marine science and ocean conservation. We are designing camp to ensure that campers can still connect with one another under staff supervision including the opportunity to join midweek Zoom sessions early for our camper connect time.
Can helpers such as parents, caregivers or siblings join Sea Circle?

Sea Circle is a time for campers to bond in meaningful ways, so we respectfully request that caregivers and helpers refrain from participating but are more than welcome to watch. Instructions for caregiver support with flexible options for different care and to support different circumstances will be provided.
What happens if my child is late to Sea Circle or misses it altogether due to technical issues?

Technical issues happen at the worst times and are always a bummer! We will work one-on-one with your camper to make sure that they get caught up on what was covered.
What kinds of supplies will I need to buy if I register after the deadline for the materials package?

We are doing our best to plan activities with supplies that are commonly found around the home. This may include things like yarn, a clipboard, paper, pens or clean recyclables. We'll be in communication with you if you register after the materials deadline to ensure you have what you need for your camper to have a great time!
What grade do I sign my child up for?

You must sign your child up according to the grade level they will be entering in the 2021-2022 academic year. Activities are based on Next Generation Science Standards for the specific grade levels and age-appropriate social interaction is an important part of camp; therefore, we do not permit campers to register for a session outside of their grade level.

For questions or concerns, please email camp@tmmc.org.
The camp week I'm interested in is sold out, what can I do?

Contact us at 415-289-7330 or camp@tmmc.org to find out about wait-list options. And sign up for email to be alerted when the next year of camp goes on sale. You'll also get patient updates, event announcements and opportunities to help save marine mammals delivered right to your inbox.
Can you tell me if my child's friend has already signed up for camp?

Privacy laws do not allow us to share that information.
What is the camper-to-adult ratio?

We maintain a familial environment with a cap of 20 campers per session. Two camp counselors from the Center's staff lead each session, with additional support from other Center staff members and Youth Crew volunteers.
The price for each week is $125 for members and $175 for non-members. Price includes all required materials pre-mailed to each camper, a camp souvenir and all virtual camp activities and supporting facilitation.
Can I become a member when I sign up for camp?

If you would like to become a member before camp starts, you may join online.
Do you have scholarships available?

Yes, we offer a lottery for full and partial first-come, first-served scholarships for Camp Sea Quest. You can request a scholarship application and learn more about scholarship opportunities by emailing our education team at camp@tmmc.org.