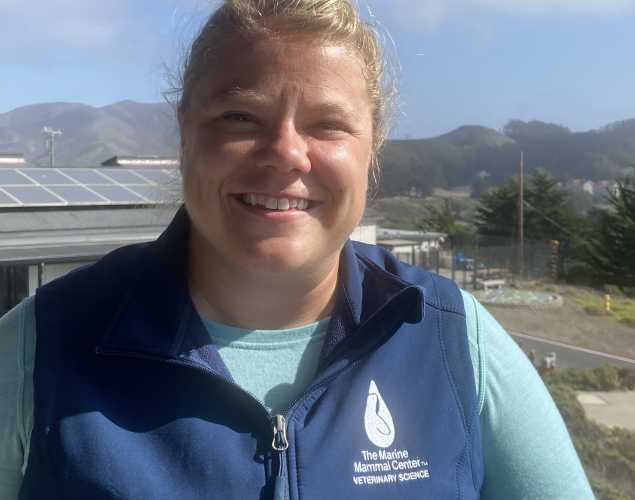 Michelle Rivard, DVM
Veterinary Fellow
Dr. Michelle Rivard completed her final clinical rotation of veterinary school at The Marine Mammal Center and has envisioned returning to the Center ever since. As the veterinary fellow, Dr. Rivard provides medical management and care of stranded marine mammals, performs post-mortem examinations, conducts ongoing research projects and teaches visiting students.
Upon graduation from veterinary school, Michelle spent four years in the U.S. Army Veterinary Corps. During this time, she provided veterinary care for Department of Defense and Department of Homeland Security Military Working Dogs, as well as service members' pets. In addition, Michelle was responsible for the installation of public health and food safety initiatives.
After her time in the military, Michelle completed a year-long aquatic animal medicine and research internship at Mystic Aquarium in Mystic, Connecticut. Michelle was responsible for providing preventive care and medical management of invertebrates, fish, reptiles, penguins and marine mammals, as well primary case management for animals undergoing rehabilitation at the Mystic Aquarium Animal Rescue Program.
Michelle received her bachelor's degree from Grand Valley State University in Grand Rapids, Michigan, and her veterinary medical degree from Michigan State University.
Originally from Michigan, Michelle, her husband, and dog love living in the beautiful state of California.
Areas of Expertise
Clinical medicine
Research
Conservation
---
Talk to Our Experts
Our experts are available to comment on a variety of marine mammal and ocean health issues. Please contact our PR team at media@tmmc.org to schedule an interview.