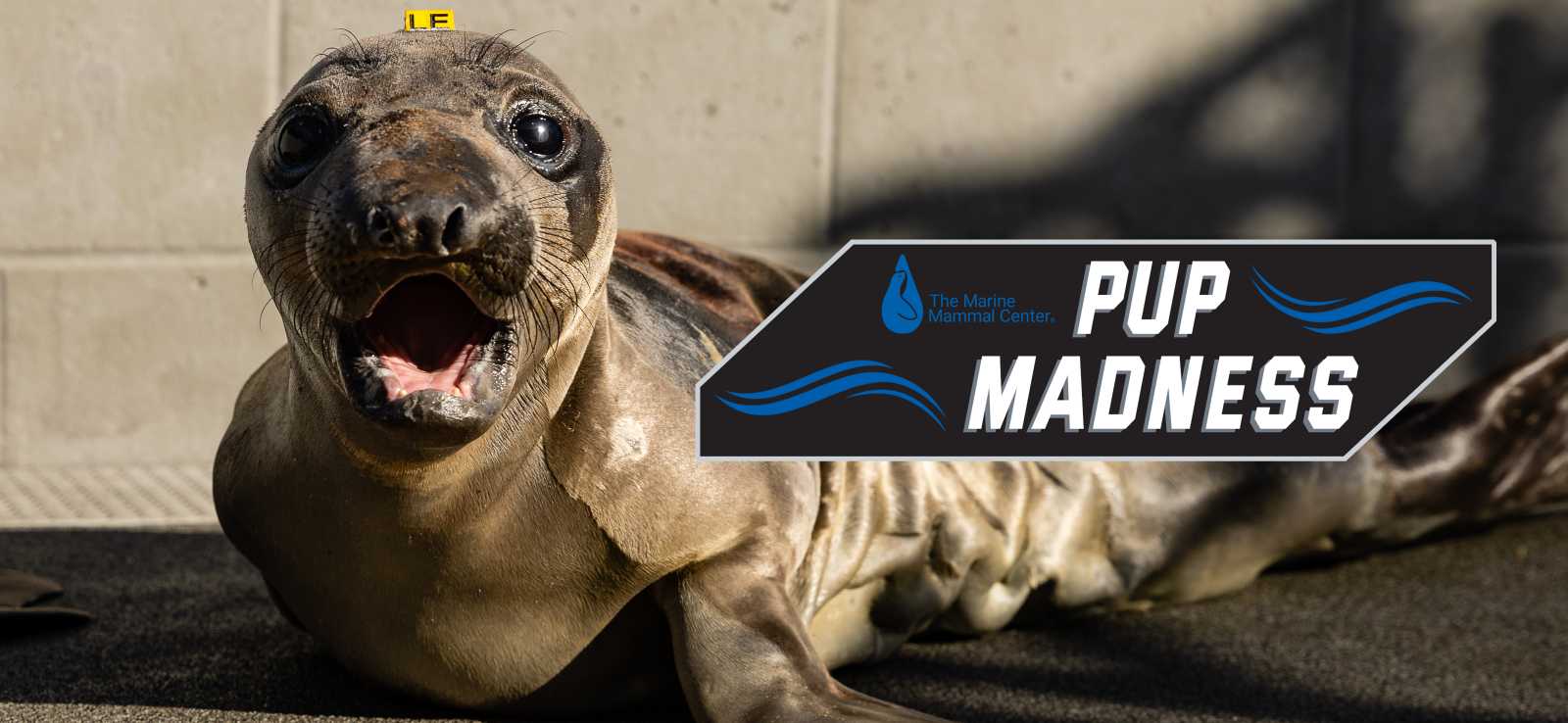 Pup Madness at The Marine Mammal Center
March Madness might be over, but "Pup Madness" at the Center has just begun!
Every spring, as marine mammal pupping season starts, our hospital starts to fill up with young seals and sea lions that are orphaned, premature, malnourished or some combination of the three.
Experience our busiest season for animal care through the eyes of our youngest (and most adorable) patients as they prepare to return to their ocean home by learning to survive in the wild.
The results are in for the Pup Madness class of 2023!
As our young pups worked toward their fish school graduation, they've been competing for some seal-ious superlatives. The results are in, and you might say they're all winners because thanks to caring people like you, they are getting a second chance at life at our hospital.
Elephant seal Tot is valedictorian. Now free feeding, Tot has learned to compete with other pups to track and eat whole fish.
Emerald and Moochie have tied for Most Improved. Both of these pups gained more than 15 pounds during Pup Madness.
And Raya raced to the top of the polls and the scale, earning Plumpest Patient and Most Popular Pup. She's nearly doubled her weight since being admitted to our hospital and worked her way into our hearts.
You can continue to keep up with these pups by following us on Facebook, Instagram and Twitter.
Northern elephant seal pup Emerald
Rescued: March 13, 2023
Diagnosis: Malnutrition
Weight at Admit: 34 kg
Emerald was rescued and brought to our hospital just a few days before St. Patrick's Day. During his admit exam, our animal care team discovered Emerald weighed just shy of 75 pounds – approximately the weight he would have been at birth. Elephant seal pups around Emerald's age should weigh nearly 300 pounds!
It was clear he wasn't getting the nutrition he needed out in the wild, so he was brought to our hospital for care. While Emerald may be small, he is one of our most vocal patients, making sure his elephant seal cackles are heard far and wide. With best-in-class veterinary care, plenty of fish and a little luck, this spirited pup will hopefully return to the wild.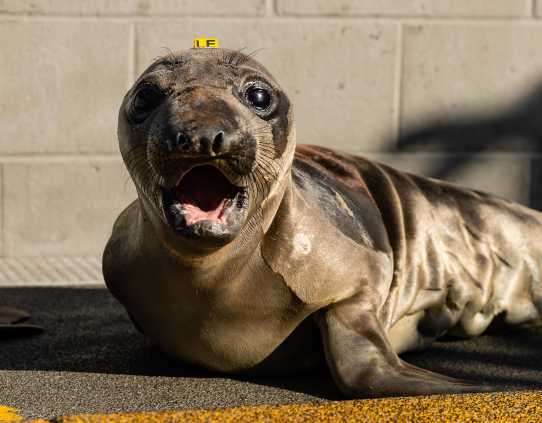 Northern elephant seal pup Moochie
Rescued: February 18, 2023
Diagnosis: Malnutrition, Trauma, Unknown
Weight at Admit: 32 kg
When Moochie was first spotted at Abalone Cove, she was so tiny it was hard to see her among the rocks on the beach. Our trained responders became especially concerned when she barely reacted to their presence. Healthy elephant seals in the wild typically bark loudly and move quickly when humans are near.
Thankfully, our team in Morro Bay rescued Moochie and ensured her safe transport to our hospital in Sausalito. With a healthy dose of herring, medicine and fish school lessons, we expect she will transform from miniature pup to monumental Moochie and return to her ocean home.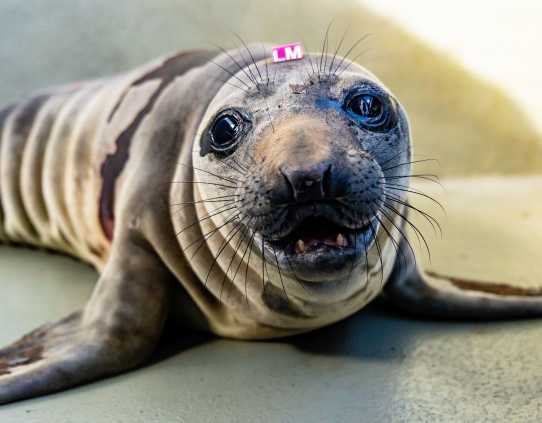 Northern elephant seal pup Raya
Rescued: January 15, 2023
Diagnosis: Malnutrition, Maternal Separation, Trauma, Unknown
Weight at Admit: 30.5 kg
Raya was rescued in Pacifica in January and is our first elephant seal pup rescue of the year. She was found all alone, very thin and still sporting her blackcoat, or baby fur, which elephant seals shed once they've weaned from their mother.
Raya was named after a longtime volunteer who recently passed away and dearly loved elephant seal pups. While this pup came to our hospital under birth weight, we're hopeful Raya will grow strong and pack on the pounds with lots of nutritious "fish smoothies" as she works toward learning to eat whole fish on her own.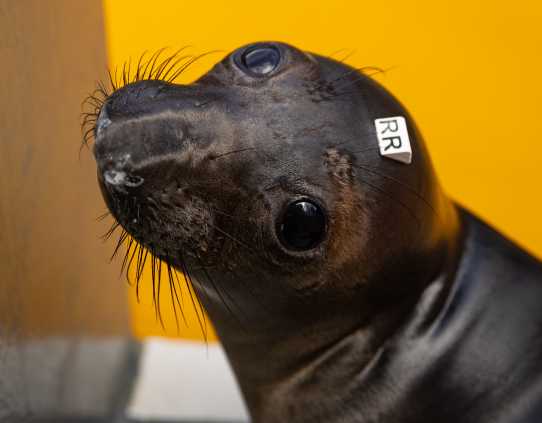 Northern elephant seal pup Tot
Rescued: March 5, 2023
Diagnosis: Malnutrition
Weight at Admit: 37.5 kg
At the beginning of March, our rescue hotline received a call about a seal pup vocalizing near the cliffs at Davenport Landing Beach. Our team arrived just in time to find several children walking right up to the skinny, scared pup who was later named Tot. Coupled with the many off-leash dogs running along the beach, it was clear Tot was in need of help.
Tot's experience is unfortunately something we see often; harassment from people or dogs is one of the top reasons we rescue these young animals. Luckily for Tot, and pups like him, this can be prevented with a few simple tips for safe wildlife viewing.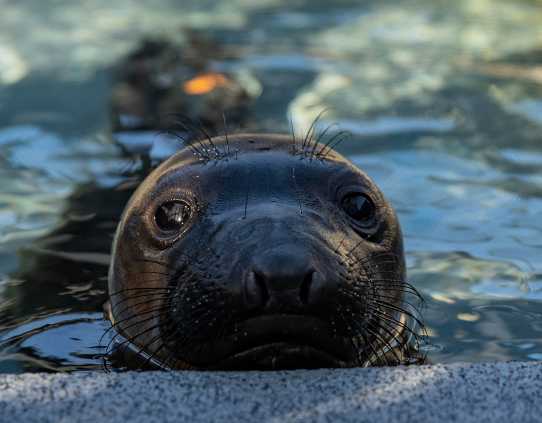 pup madness, March Madness, elephant seal pup, elephant seals, most popular, vote, pupdate, Emerald, Moochie, Raya, Tot