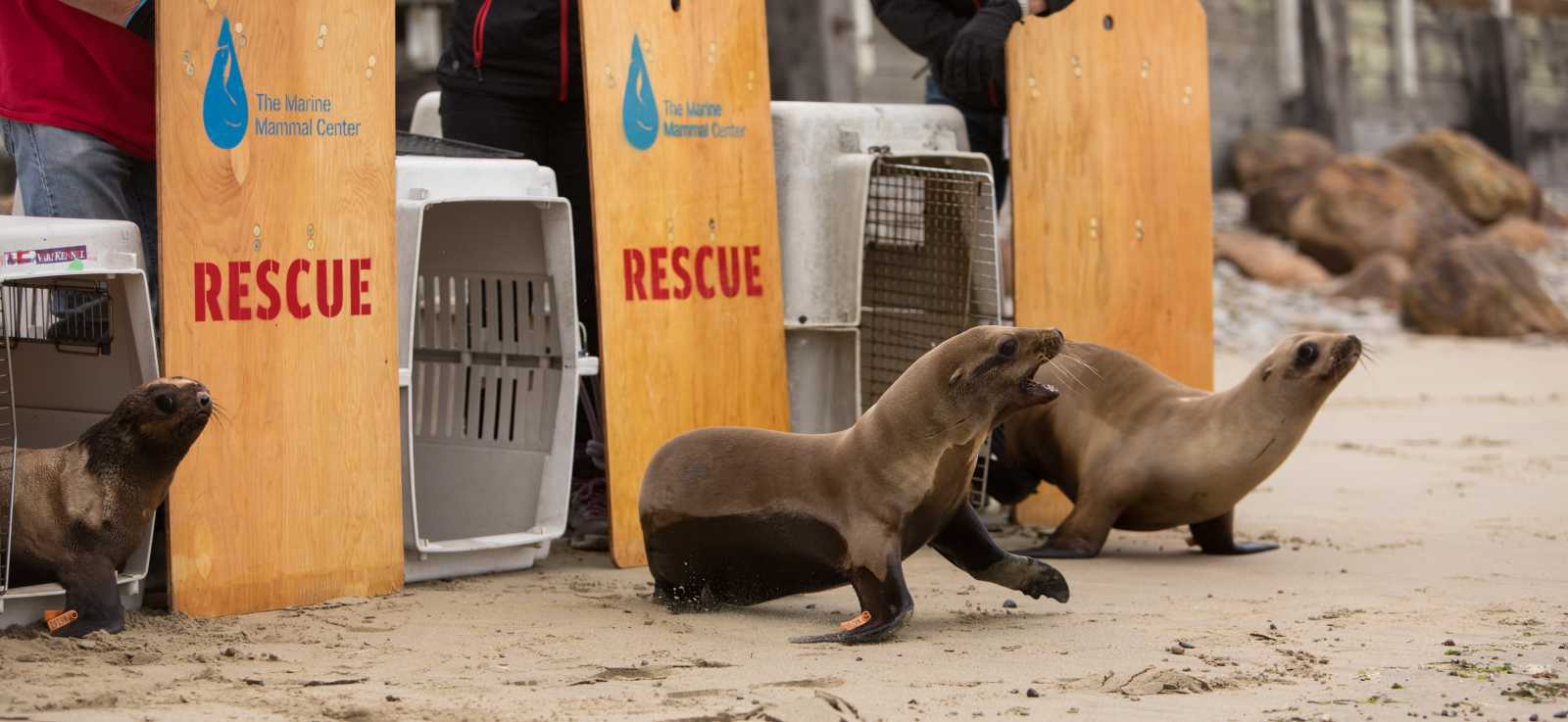 Your Impact in Action
The Marine Mammal Center sincerely appreciates and proudly recognizes the generous support received from donors who are helping ensure a healthy ocean for marine mammals and humans alike.
Together, we are advancing global ocean conservation through marine mammal rescue and rehabilitation, scientific research, and education.
While this year was a challenge in many ways, your generous support ensured that marine mammals were responded to while we continued to prioritize safety for our staff and volunteers. Thank you from our team!
You enable a whole community of staff and volunteers to make a difference. We're able to rescue and heal marine mammals while sharing our scientific knowledge with the global community. Through that, generations of people, younger and older, locally and globally, are inspired by the unique story and mission of the Center. Thank you.
Much has been put to the test, but thanks to this steadfast community, the Center was able to adapt, continuing its core work safely while pursuing innovative ways to connect, educate and inspire. Thank you.
Your support is essential for our necropsies and research, because it advances our overall understanding and allows for future inquiry. Thank you so much for your contribution and giving us the ability to further our conservation work.
While we were farther away from one another this past year, I've never felt closer to you, our supporters. Your unwavering commitment to our mission fuels us and allows us to have high impact in spite of the challenges we face.
Your contributions supported teachers and students by providing curriculum and virtual opportunities that brought science to life, helping them become ocean stewards. During a year when schools have been so affected, the impact of these programs is even more meaningful. Thank you for helping to make this possible!
Careful stewardship of our financial resources is key to increasing our impact in the face of ongoing marine mammal health threats and a rapidly changing ocean environment.
This summary of financial information has been extracted from The Marine Mammal Center's audited financial statements, on which an independent public accounting firm, Armanino, expressed an unqualified opinion.
Audited Financial Statements for the Fiscal Year ended September 30, 2020.
Form 990 for the Fiscal Year ended September 30, 2019.
Archive of Audited Financial Statements for Previous Years
The Marine Mammal Center Is Proud to Be a Top-Rated Charity
The Marine Mammal Center is a 501(c)(3) certified organization and is registered in all applicable states. Our tax identification number is 51-0144434.
A copy of the latest financial report, registration filed by this organization, and a description of our programs and activities may be obtained by contacting us at: 2000 Bunker Road, Sausalito, CA 94962 or (415) 289-7335 or info@tmmc.org. The Marine Mammal Center was formed in CA. If you are a resident of one of the following states, you may obtain financial information directly from the state agency:
Florida: A COPY OF THE OFFICIAL REGISTRATION AND FINANCIAL INFORMATION MAY BE OBTAINED FROM THE DIVISION OF CONSUMER SERVICES BY CALLING TOLL-FREE, WITHIN THE STATE, 1-800-435-7352 (800-HELP-FLA), OR VISITING www.FloridaConsumerHelp.com. REGISTRATION DOES NOT IMPLY ENDORSEMENT, APPROVAL, OR RECOMMENDATION BY THE STATE. Florida Registration #CH4638. Georgia: A full and fair description of our programs and our financial statement summary is available upon request at our office and phone number indicated above. Maryland: For the cost of copies and postage, from the Office of the Secretary of State, State House, Annapolis, MD 21401. Mississippi: The official registration and financial information of The Marine Mammal Center may be obtained from the Mississippi Secretary of State's office by calling 1-888-236-6167. Registration by the Secretary of State does not imply endorsement. Nevada: Contributions may be tax deductible pursuant to the provisions of sec. 170(c) of the Internal Revenue Code of 1986, 26 U.S.C. §170(c). New Jersey: INFORMATION FILED WITH THE ATTORNEY GENERAL CONCERNING THIS CHARITABLE SOLICITATION AND THE PERCENTAGE OF CONTRIBUTIONS RECEIVED BY THE CHARITY DURING THE LAST REPORTING PERIOD THAT WERE DEDICATED TO THE CHARITABLE PURPOSE MAY BE OBTAINED FROM THE ATTORNEY GENERAL OF THE STATE OF NEW JERSEY BY CALLING 973-504-6215 AND IS AVAILABLE ON THE INTERNET AT: http://www.state.nj.us/lps/ca/charfrm.htm. REGISTRATION WITH THE ATTORNEY GENERAL DOES NOT IMPLY ENDORSEMENT. New York: Upon request, from the Attorney General's Charities Bureau, 28 Liberty Street, New York, NY 10005, 1-212-416-8686 or www.charitiesnys.com. North Carolina: Financial information about this organization and a copy of its license are available from the State Solicitation Licensing Branch at 1-919-814-5400. The license is not an endorsement by the state. Pennsylvania: The official registration and financial information of The Marine Mammal Center may be obtained from the Pennsylvania Department of State by calling toll-free, within Pennsylvania, 1-800-732-0999. Registration does not imply endorsement. Virginia: From the State Division of Consumer Affairs, Department of Agricultural and Consumer Services, PO Box 1163, Richmond, VA 23218. Washington: From the Secretary of State at 1-800-332-4483 or http://www.sos.wa.gov/charities/. West Virginia: West Virginia residents may obtain a summary of the registration and financial documents from the Secretary of State, State Capitol, Charleston, WV 25305. Registration does not imply endorsement. Wisconsin: A financial statement of the charitable organization disclosing assets, liabilities, fund balances, revenue and expenses for the preceding fiscal year will be provided to any person upon request.
REGISTRATION WITH A STATE AGENCY DOES NOT CONSTITUTE OR IMPLY ENDORSEMENT, APPROVAL OR RECOMMENDATION BY THAT STATE.
Have Questions?
We're happy to help assist you. You can reach us Monday-Friday 8am-5pm PT at (415) 289-7335 or email us at give@tmmc.org.
Or contact us by mail:
The Marine Mammal Center
2000 Bunker Road, Fort Cronkhite
Sausalito, CA 94965
annual report, impact report, accomplishments, financials, donors, donor impact