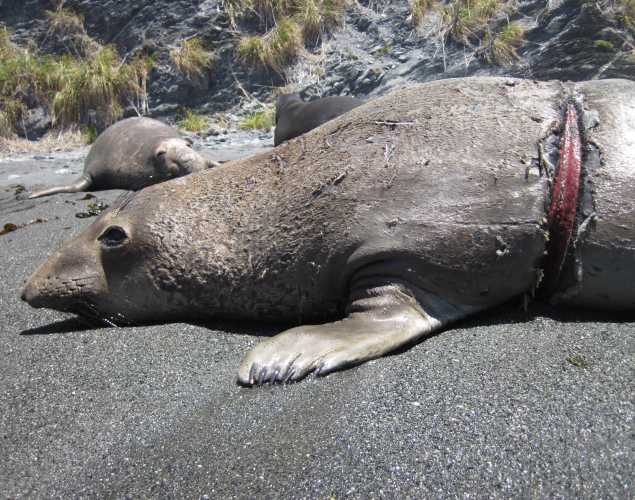 Patient Update
Disentangling Gordo, a 700-Pound Elephant Seal
Rescuers from The Marine Mammal Center embarked on a perilous hike down a rocky cliff to disentangle a 700-pound elephant seal.
Here's an amazing story from our associate veterinarian, Dr. Rebecca Greene:
It took two days but we achieved our goal: we safely disentangled a 700-pound male elephant seal estimated to be between 2 and 3 years old. It was a dramatic field rescue carried out on the rugged Big Sur coast beginning June 27. Every step of the way a new challenge presented itself.
First, the obvious: Photos sent to us from the public showed a very thick, heavy rope was completely encircling this animal's body. It looked like it had been there a long time and was embedded very deeply, so we were concerned we'd have to do field surgery to remove it.
Second, the animal had been repeatedly hauling out in the same remote area, a small beach on a very remote part of the Big Sur Coast, more than four hours from the Center's Sausalito hospital and two hours from our facility in Moss Landing. Once we got there, access was even more difficult than we had anticipated.
Even though some young locals had reportedly been shimmying down this cliff for fun, few people would consider going down the side of this hill! In fact, years ago, our volunteers based in Moss Landing had been on a call down to this very beach and had to slide down on their butts. Now, years after a huge storm washed out the road and caused a rockslide on the hill that leads to this beach, a crumbling rocky wall is all that's left. Needless to say, this was quite a challenge.
Day 1:
We attempted the descent to the beach multiple times (with all of our equipment) to no avail – it was too dangerous without steady footing underneath. But then the young men working and living around the tiny Big Sur town of Gorda came to our aid. One of them literally ran down the crazy, steep crumbling path to the beach to scout for us!
When the animal was confirmed to be on the beach, the rest of them led us down and even carried some of our gear and cumbersome herding boards! Unfortunately, the day was getting short, and our patient was surrounded by 2,000-pound male elephant seals resting and molting on the beach. They were not willing to move so we could have safe access. Therefore, we decided to try again first thing the next morning, but had to coordinate with local volunteers as well as staff in Sausalito.
However, another challenge presented itself: we had no cellphone service for miles (or hours)! The phones at the small café in town couldn't even call out long distance. So we had to feed quarters into the payphone. Yes, you read correctly -- I can't remember the last time I used one of those! We headed back to Moss Landing and spent the night there.
Day 2:
We had an early rise after limited sleep and drove back to Big Sur. Scouting the beach from above, we spotted our seal right away in the water! Two young seals were play-fighting next to him and didn't look like they would haul out any time soon. So we waited. And waited.
Then I saw in my binoculars what we'd been hoping for: the animal scooting up the beach. So we hurried (carefully!) down the cliff, excited and anxious. We carried rope down this time and secured some to a tree at the steepest section to help us on the way back up when we would have all of our equipment. However, by the time we got down, the animal had retreated back into the water. So we waited again … and waited some more.
Finally, the animal was back on the beach. But so were the rest of the seals, starting to form a circle around him! We had come this far, so we couldn't give up. I loaded my pole syringe with anesthesia, and I approached from the top of the beach. The rest of the team slowly approached with herding boards from the waterline, attempting to keep the animals up on the beach. We were able to isolate the animal somewhat to attempt an injection.
I was able to successfully inject the medication, making him sleepy enough to do what we needed to do but still awake and breathing well on his own. A volunteer deftly cut the rope, and Dr. Lorraine Barbosa, another veterinarian from the Center, gave him a dose of antibiotic for his wounds.
We tagged him and even measured his length. His wounds were not as deep as we had feared, but still quite impressive as they went around the entire body, deep in places but not embedded. However, the tissue was mostly healthy and pink, trying to heal.
The animal woke up after some stimulation from the incoming tide, and we monitored him until he was recovered and heading up the beach to a safe spot before we left.
What a great effort by all involved and thankfully a happy ending. I named him Gordo for the town he currently calls home. (Gorda is the town, but with that nose he is definitely a Gordo!)
Thanks to all the volunteers who helped with the initial calls, planning and rescue (and to Moss-Landing-based volunteer Tegwin Taylor for hiking down on the original scouting climb). And thanks to all of you for your support week in and week out.
Yes, I want to save a life!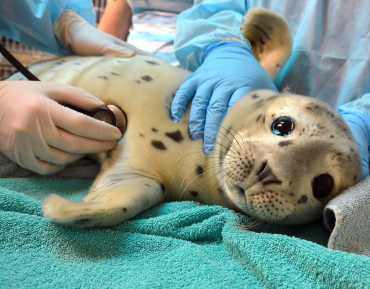 Yes, I want to save a life!
You'll be giving sick and injured animals the best possible care at the Center's state-of-the-art hospital. With your gift today, you are giving a patient a second chance at life in the wild.
entanglement

Northern Elephant Seal