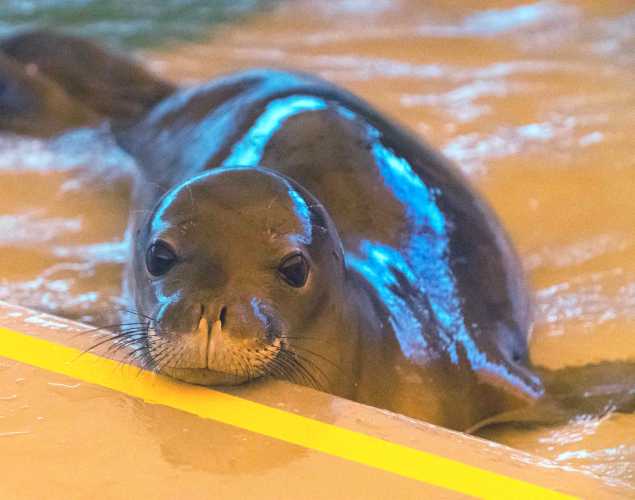 Press Release
Four Hawaiian Monk Seals Admitted to Ke Kai Ola
Four endangered Hawaiian monk seals admitted to Ke Kai Ola, a dedicated hospital for monk seals on Hawai'i Island
Just weeks after proposed changes to the Endangered Species Act were announced, The Marine Mammal Center admitted four endangered Hawaiian monk seals from the Northwestern Hawaiian Islands to Ke Kai Ola, its hospital and visitor center in Kailua-Kona, Hawai'i. The successful rescue, made in partnership with the National Oceanic and Atmospheric Administration (NOAA) and other partner agencies, demonstrates the urgent need to maintain regulatory protections for threatened and endangered species.
"This is a critical time for the endangered Hawaiian monk seal. These four female pups were all underweight and unlikely to survive the winter without intervention," says Dr. Cara Field, Staff Veterinarian at The Marine Mammal Center, who helped oversee their rescue and initial care.
Of the approximately 1,400 monk seals researchers estimate remain in the wild, nearly 30 percent are alive today as a result of these types of conservation efforts. Continued funding and support for this work is so important.
Scientists onboard the NOAA Research Vessel Oscar Elton Sette performed physical exams and initial treatment on the four monk seals rescued from Pearl and Hermes Atoll and Lisianski Island. The research ship shuttled the pups to Honolulu and from there they were quickly transported via a U.S. Coast Guard aircraft to Ke Kai Ola.
The two seals rescued from Pearl and Hermes Atoll, DL32 and DL36, both weaned early at a small size and were unlikely to survive the winter season due to their poor body condition. The other two seals from Lisianski Island, LL34 and LL00, are a little older and are also quite thin. Both were evaluated after weaning during the spring cruise but were not candidates for rescue at that time.
"Our expert team is carefully monitoring the progress of all four patients. They are currently being tubefed a fish-mash smoothie three times a day at the hospital to help them get the necessary nutrients they need to regain strength," says Megan McGinnis, The Marine Mammal Center's Animal Care Manager at Ke Kai Ola. "The seals have been quite vocal and feisty from the start, which is a very encouraging sign!"
The rescued pups are continuing to follow a strict treatment regime, including oral multivitamins and electrolytes added to their daily tube feedings to help boost hydration.
In an encouraging sign, researchers also spotted former patient RH38 looking healthy after having been released back to the wild on Kaua'i. RH38 underwent two rehabilitation stints at The Marine Mammal Center. During her second rehabilitation, RH38 was successfully treated for numerous serious medical ailments including trauma, pneumonia, an eye injury and multiple organ infections. This most recent sighting highlights the long-term impact the Center's work is having to protect and save Hawaiian monk seals.
The Marine Mammal Center is a member of the Pacific Islands Region Marine Mammal Response Network and is responsible for monitoring the seals that haul out, or spend time on land, on Hawai'i Island. Since 2014, the Center has rehabilitated and released 28 monk seals, including RH38 twice.
Through community engagement, education, stranding response and animal care, dedicated staff and volunteers are working to save a species. The swift action and collaboration demonstrated by our partnership with NOAA and other cooperating agencies is now more important than ever to prevent this endangered species from becoming extinct.
---
For more information or to set up an interview on this topic, please contact us at media@tmmc.org.
---
Header image: photo by Sheila Latta © The Marine Mammal Center / NOAA permit #18786
Yes, I want to save a life!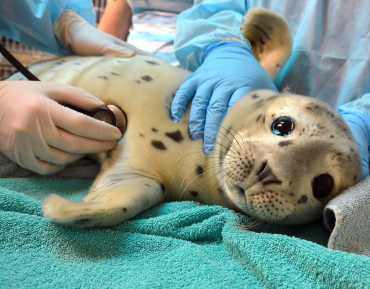 Yes, I want to save a life!
You'll be giving sick and injured animals the best possible care at the Center's state-of-the-art hospital. With your gift today, you are giving a patient a second chance at life in the wild.
species conservation

Cara Field
Megan McGinnis

Hawaiian Monk Seal