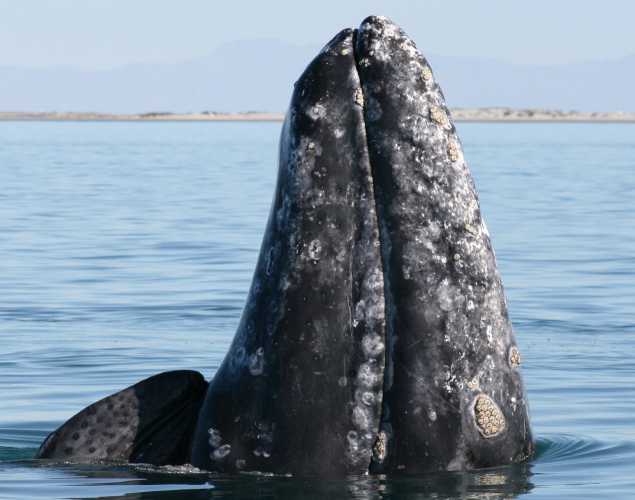 Press Release
Gray Whale Death Confirmed to Be Result of Severe Malnutrition
UPDATE: The Marine Mammal Center confirms gray whale death a result of severe malnutrition
Scientists at The Marine Mammal Center confirm that the gray whale that stranded near Rodeo, CA, last week died of severe malnutrition. As an adult male, this animal should have been a skilled forager. Based on other cases, it is possible that shifting food sources are the cause of the malnutrition, but scientists would more likely expect to see infectious disease or toxins. Due to the advanced stage of decomposition, it is unlikely that experts will be able to determine the underlying cause of malnutrition for this animal.
By investigating deaths like this, we are able to identify and respond to rapidly changing environmental trends that are impacting marine mammal populations.
"By investigating deaths like this, we are able to identify and respond to rapidly changing environmental trends that are impacting marine mammal populations," said Dr. Padraig Duignan, Chief Research Pathologist at The Marine Mammal Center. "This animal is representative of a growing issue for migrating gray whales who appear unable to sustain themselves due to shifting food source availability."
In recent years, biologists have observed cases of young gray whales in poor body condition migrating south in the fall from their feeding grounds in Alaska to the warmer waters off the coast of Baja California, Mexico. This species faces the longest annual migration of any whale on earth.
Scientists noted a significant lack of blubber and body fat, a clear sign of malnutrition, as well as a lack of content in the animal's stomach and intestinal tract. The whale was in an advanced stage of decomposition, but the team did not see obvious signs of infectious disease. Scientists looked for signs of blunt-force trauma, which could indicate a ship strike, but found no evidence of trauma. The team also revised the age estimate from last week's initial observations and classified the whale as a 40-foot adult male.
The necropsy was completed Tuesday morning at Angel Island State Park by scientists from The Marine Mammal Center and its partners at California Academy of Sciences.
Climate change affects water temperatures and prey availability, leading to shifting food sources for marine mammal populations and other marine species. Overfishing can also lead to reduced prey availability. Effective policies are critical to protect vulnerable marine mammal populations from the many human-caused threats they face in the wild.
"The death of a third gray whale in San Francisco Bay this year is a cause for serious concern as it speaks to the broader challenges this species continues to face in its ocean home," says Dr. Duignan.
The findings of these investigations are incredibly valuable as they are shared with policymakers to help find long-term environmental solutions to help prevent these incidents in the future.
Experts continue to notice a change in migratory behavior of gray whales entering the San Francisco Bay in the late winter and early spring months, notably the length of stay and total number of animals frequenting the area. As of Monday afternoon, three gray whales continue to frequent the Bay, according to Bill Keener at Golden Gate Cetacean Research.
Scientists from The Marine Mammal Center investigated two gray whale deaths last month and confirmed severe malnutrition for one whale, but were unable to determine cause of death for the second due to the advanced stage of decomposition. Scientists at The Marine Mammal Center have responded to 80 gray whales in its 44-year history.
Blunt-force trauma from ship strikes, malnutrition and entanglements are most commonly determined as cause of death in whales by The Marine Mammal Center's research team. The Center collected more than two dozen tissue and blubber samples from the whale to submit for further testing. These samples are a vital component of the Center's extensive 44-years of baseline data on whales and will contribute to ongoing and future research studies.
The Center's rescue team first received reports from the U.S. Coast Guard Tuesday, April 2, of a dead cetacean floating a quarter-mile offshore of Rodeo near the Carquinez Bridge. The Center later contracted a private towing company to help tow the carcass to Angel Island on Thursday, April 4.
The Center is grateful to its partners at Angel Island State Park, one of the many parks within the California State Park system, for their assistance in authorizing a landing area to perform the whale necropsies.
---
For more information or to set up an interview on this topic, please contact us at media@tmmc.org.
Yes, I want to save a life!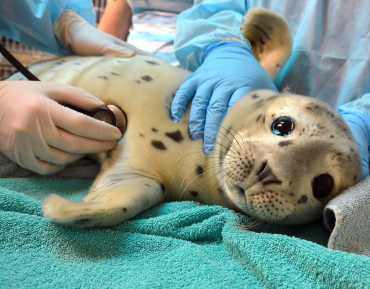 Yes, I want to save a life!
You'll be giving sick and injured animals the best possible care at the Center's state-of-the-art hospital. With your gift today, you are giving a patient a second chance at life in the wild.
climate change

Pádraig Duignan

Gray Whale