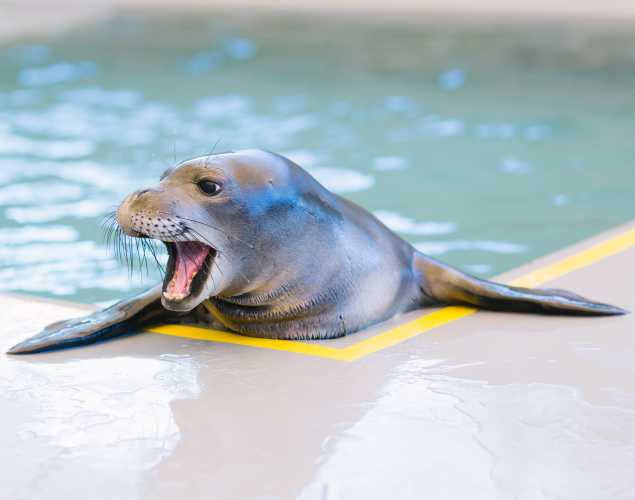 Press Release
Hawaiian Monk Seals Released Back to Laysan Island
Endangered Hawaiian monk seals released back to Laysan Island after rehabilitation at Ke Kai Ola, a dedicated hospital for monk seals on Hawai'i Island
Two Hawaiian monk seal pups rescued on Laysan Island last September have been released back to the wild after successful rehabilitation at Ke Kai Ola, The Marine Mammal Center's hospital and visitor center in Kailua-Kona that is dedicated to the endangered marine mammal.
"Both Maiapilo and 'Ākulikuli were prematurely weaned pups that would have died without intervention," says Dr. Claire Simeone, the Center's Hospital Director at Ke Kai Ola.
For endangered species in particular, every individual is critical so we are thrilled that they have learned the skills needed to successfully forage and have a second chance at life to help boost the monk seal population.
Maiapilo and 'Ākulikuli were returned to Laysan Island via the Oscar Elton Sette, a National Oceanic and Atmospheric Administration (NOAA) research vessel. Both seals were fitted with new satellite tags aboard the ship so that researchers can monitor them post-release. Since their release, their satellite tags have shown that Maiapilo has been traveling around the atoll, while 'Ākulikuli has stayed near shore. Both seals have been frequently sighted by field campers stationed on Laysan Island.
"Decades of research on Hawaiian monk seals by our partners at NOAA show that as malnourished pups, both of these seals would have had little to no chance of survival on their own," says Dr. Simeone.
The ability to release Maiapilo and 'Ākulikuli back to their ocean home highlights the critical role that rehabilitation plays in the conservation of this endangered species.
Over the course of their rehabilitation, Maiapilo gained a remarkable 220 pounds and 'Ākulikuli, who was also treated for a mouth ulcer and facial lacerations, gained more than 125 pounds.
Hawaiian monk seal RH38 continues to progress during her rehabilitation at Ke Kai Ola. She was diagnosed in late April with muscle damage due to an unknown trauma, which led to widespread infection and organ damage. RH38 recently shed her fur and top layer of skin in a process known as a "molt," which is an important signal that her body condition is improving and resuming natural functions.
The Marine Mammal Center's work in Hawai'i is dedicated to the conservation of Hawaiian monk seals. The Center is a member of the Pacific Islands Region Marine Mammal Response Network and is responsible for monitoring the seals that haul out on Hawai'i Island. The Center's marine science program, Nā Kōkua o ke Kai, serves students in grades 6 through 8 and their teachers on Hawai'i Island.
The Marine Mammal Center has rehabilitated 27 monk seals since opening Ke Kai Ola in 2014. The Center is proud to partner with NOAA to support conservation efforts for the Hawaiian monk seal. NOAA researchers estimate the current monk seal population to be about 1,400 animals, and about 30 percent of those monk seals are alive today directly due to conservation efforts led by NOAA and its partners.
---
For more information or to set up an interview on this topic, please contact us at media@tmmc.org.
---
Header image: photo by Elena Graham © The Marine Mammal Center / NOAA permit #18786
Yes, I want to save a life!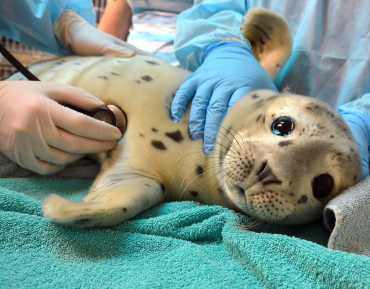 Yes, I want to save a life!
You'll be giving sick and injured animals the best possible care at the Center's state-of-the-art hospital. With your gift today, you are giving a patient a second chance at life in the wild.
species conservation

Hawaiian Monk Seal