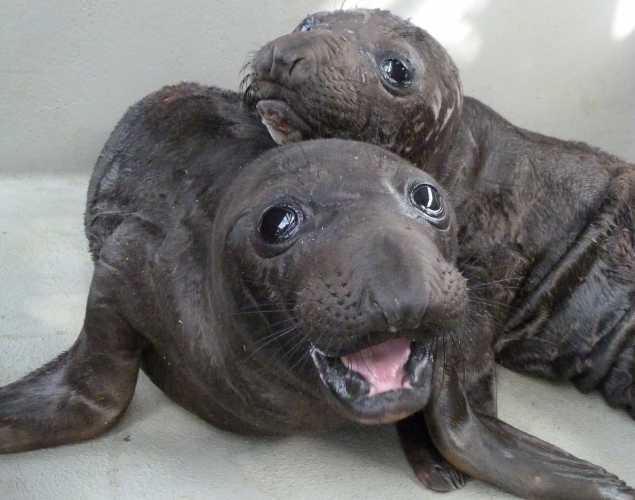 Patient Update
Pupping Season is Underway as the First Elephant Seal Pups are Admitted
Strong storms are the suspected cause of the large number of seal pups found on their own at this time of year – call our 24-hour hotline to report a marine mammal in distress: 415-289-SEAL (7325).
The sounds of elephant seal cackles fill the air here at The Marine Mammal Center—a telling sign that pupping season has begun.
Boyett, the first elephant seal admitted in 2019, was rescued in Santa Cruz County after a member of the public called our 24/7 rescue hotline. Boyett was so young at his time of rescue that he still had his black coat of fur.
Elephant seal pups shed this dark fur once they've weaned from their mother, so our trained responders knew he was too young to be on his own. What was even more alarming was that Boyett still had remnants of his umbilical cord attached—a very rare sight for an elephant seal.
Just one day later, Boyett was joined by the second elephant seal pup of 2019, Barker. Just like Boyett, Barker was found with no mother in sight and a black coat of fur, indicating he too was much too young to be on his own.
Our marine mammal experts believe that the recent stormy weather is the reason why many of the elephant seal pups now at the Center were found without their mothers. You may have heard that the West Coast has been experiencing a rare weather event called an "atmospheric river."
These surges of rain begin as warm water storms over the Pacific Ocean, where evaporation creates an increased concentration of moisture in the air. As these atmospheric rivers blow over land, the moisture condenses, causing heavy snow or rain that experts have compared to the power of a fire hose.
These powerful storms happened to coincide with elephant seal pupping season. Pups are born on beaches up and down the California coast and their mothers stay with them full-time to nurse their pups for a month. But heavy storms like we've seen recently can cause pups like Boyett and Barker to be washed off the beach by high surf.
Once out at sea, the pups are not strong enough to swim on their own and can easily be separated from their mothers. The pups that make it back to shore are likely malnourished, disoriented and alone.
At his time of rescue, Boyett was brought to our triage site in Monterey and transported to our hospital in Sausalito soon after. Despite his young age and a small abrasion on his lower lip, our veterinarians noted that Boyett was in fairly good shape, though at this age he couldn't survive on his own without nourishment from his mother's milk. Barker's admit exam revealed that he was malnourished and was also suffering from an abrasion on his right eye.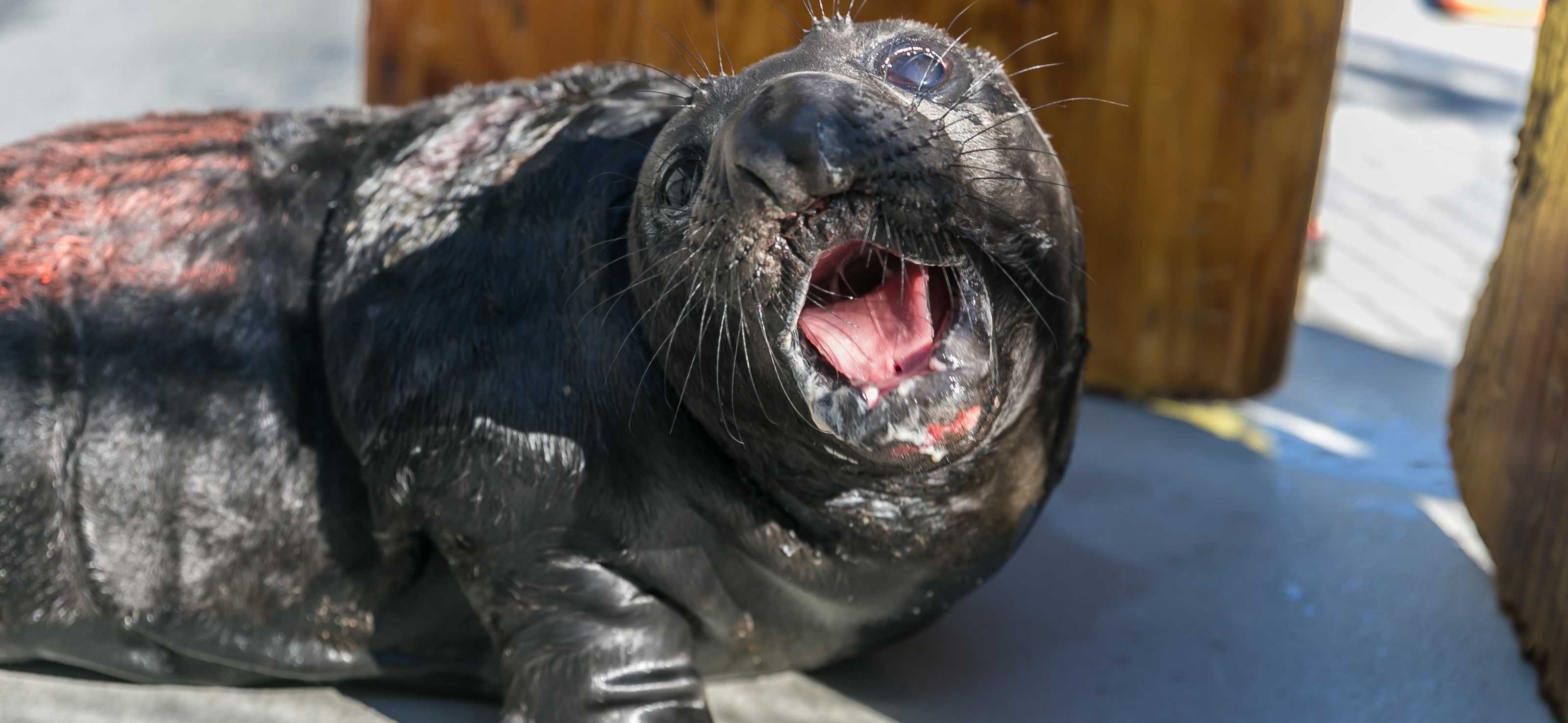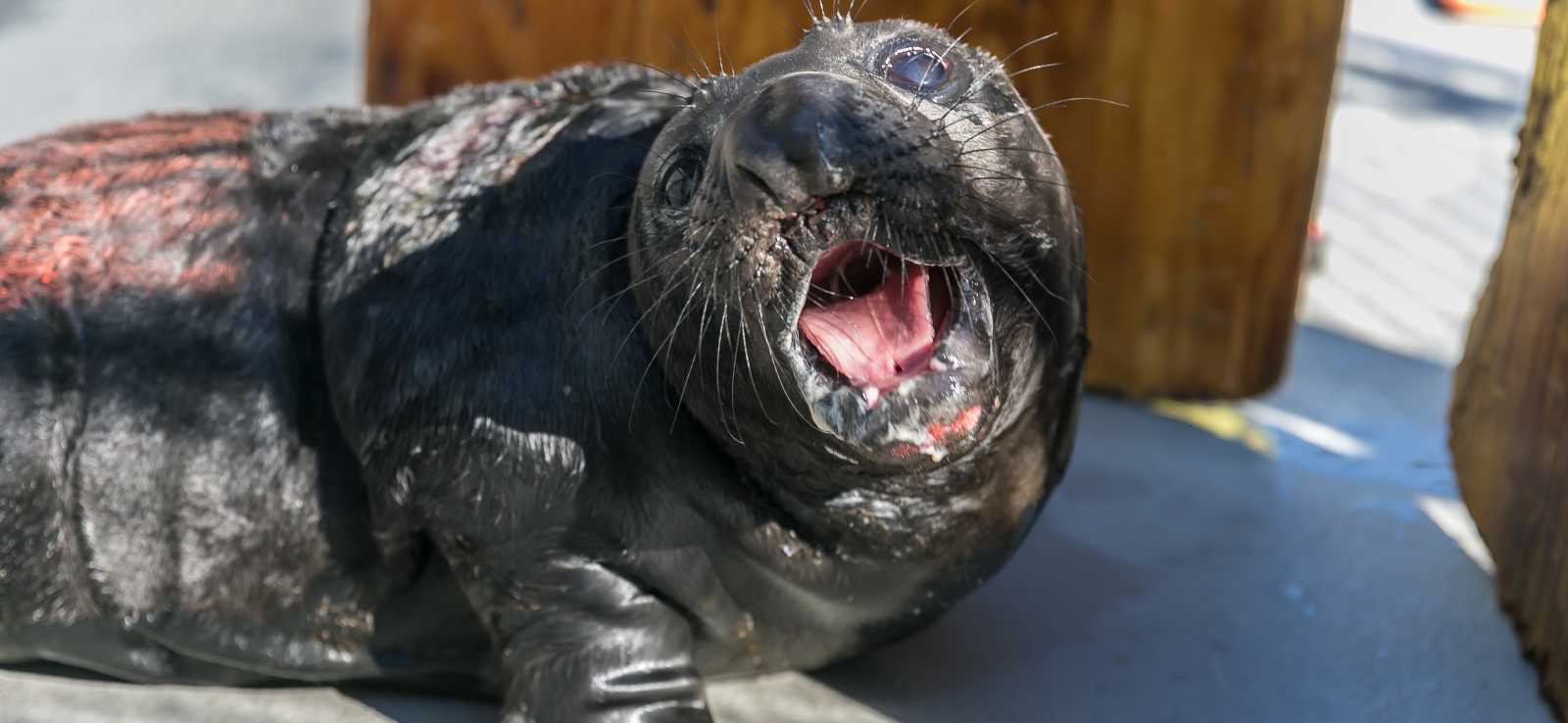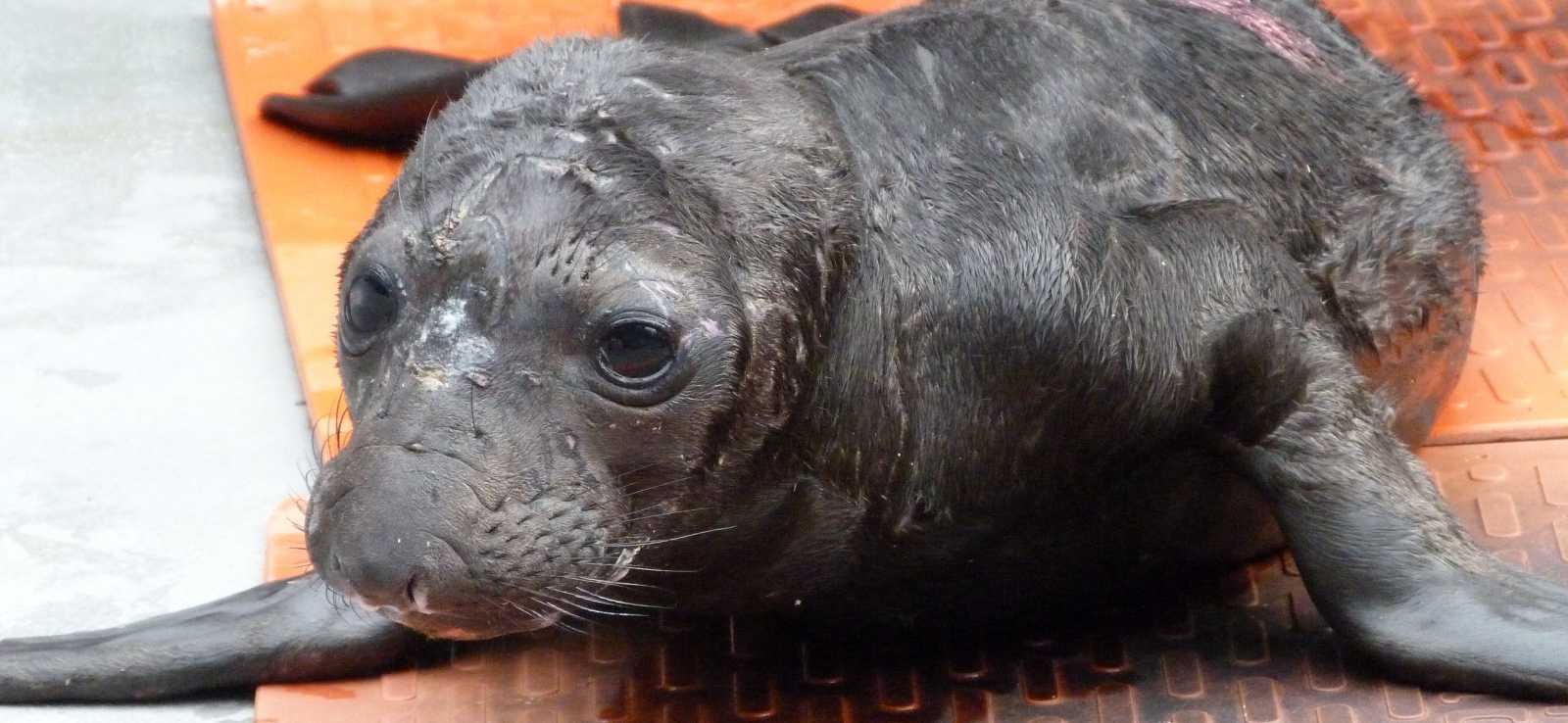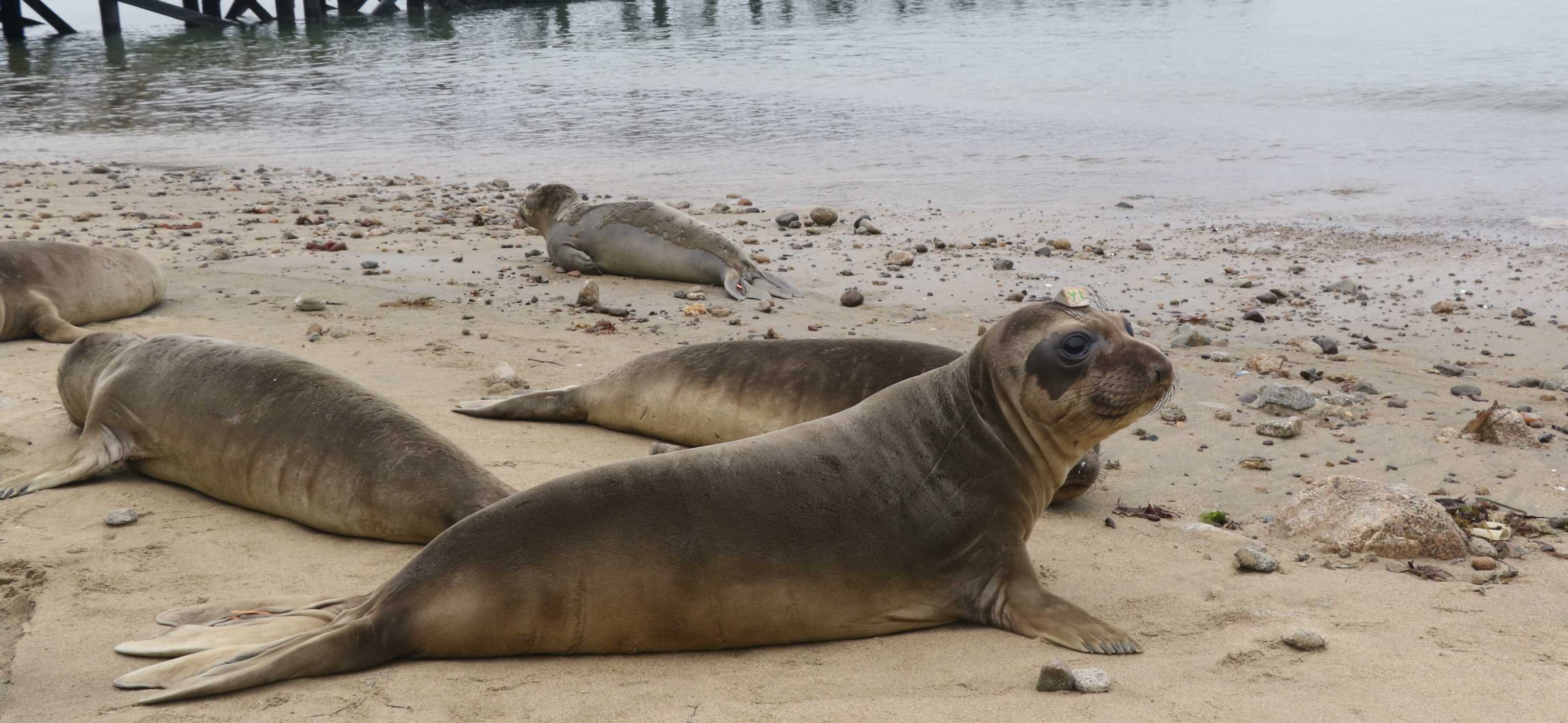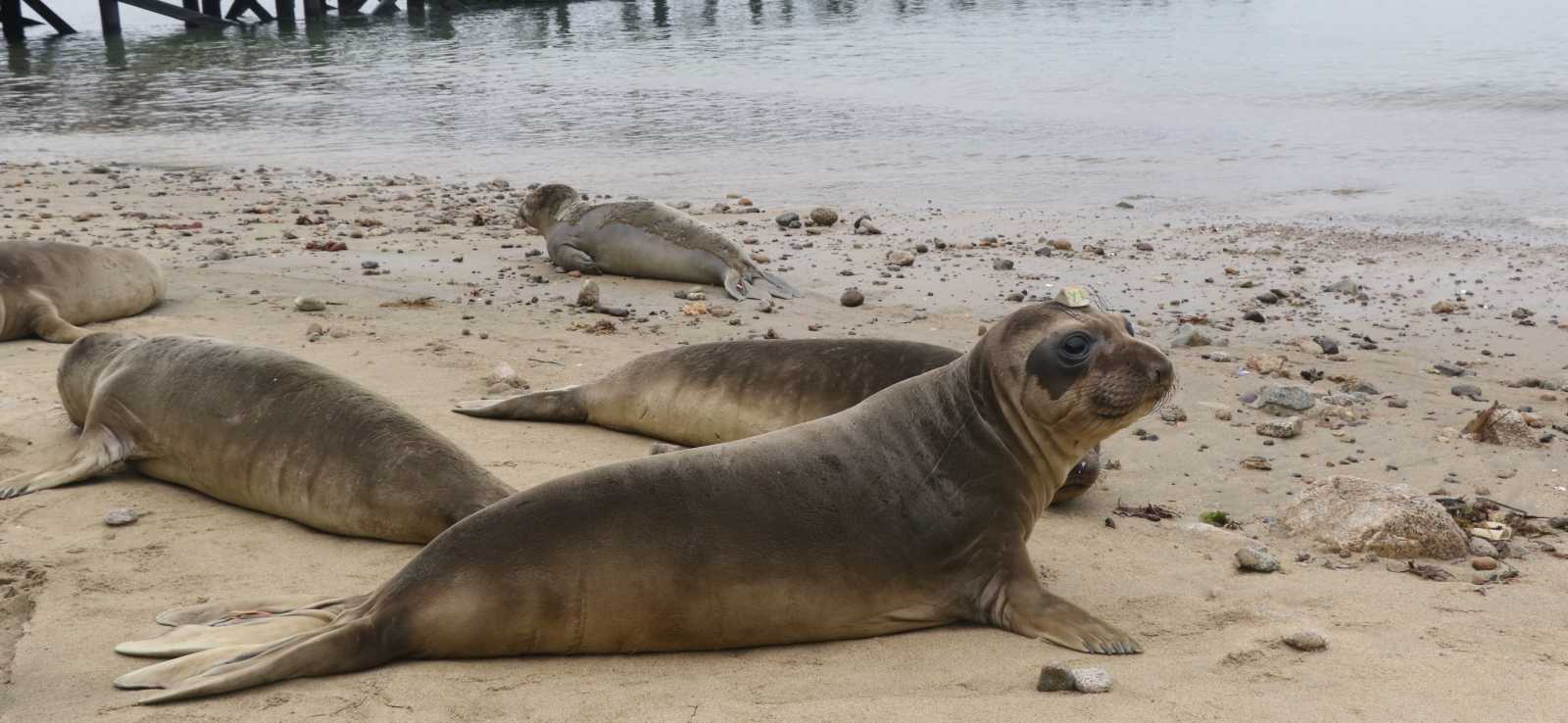 Treatment for the two young pups began right away—a regimen that includes fluids to maintain hydration as well as antibiotics.
Because the two pups cannot eat whole fish yet, our dedicated volunteers tube-feed them a formula made from mashed-up herring, salmon oil and water—a concoction called "fish smoothies." This nutritious mix helps young patients transition to solid food and gain the strength they need.
When our volunteers and staff see that Boyett and Barker are ready to progress to solid food, animal care volunteers will begin daily lessons in "fish school." At feeding time, volunteers drag fish on a string through the pool or use other methods to entice the pups to try eating the fish. They graduate from fish school when they have the lightbulb moment that there's a link between swallowing fish and a full belly.
Once Boyett, Barker and the other elephant seal pups at our hospital figure out how to eat fish, they must learn how to compete with their pen-mates for their meals. Our young seal patients must demonstrate they've learned these key skills before they can be released back into the wild for a second chance at life.
As mother seals continue to give birth to pups like Boyett and Barker along the California coast, it's important to remember that the best thing you can do for these animals is to Leave Seals Be—keep your distance and alert the experts if you see a seal in distress. For marine mammals along the California coast from Mendocino County to San Luis Obispo County, call The Marine Mammal Center's 24-hour hotline: 415-289-SEAL (7325).
Do You Want to Be a Marine Mammal Hero?
Did you know that generous people like you provide life-saving care for pups like Boyett and Barker? Yes, your support today will go a long way to give our pinniped patients a second chance at life.
Yes, I want to save a life!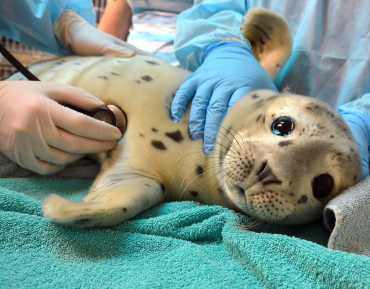 Yes, I want to save a life!
You'll be giving sick and injured animals the best possible care at the Center's state-of-the-art hospital. With your gift today, you are giving a patient a second chance at life in the wild.
malnutrition

Northern Elephant Seal