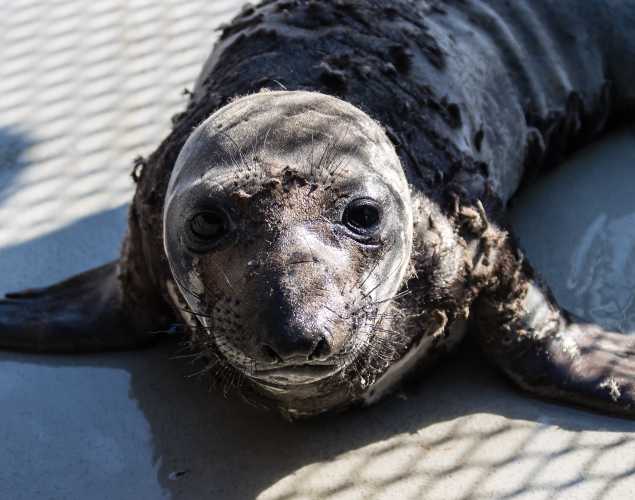 Patient Update
Pupping Season Is Underway as Orphaned Pups Like Zehr Arrive at Our Hospital
Seal pups are stranding up and down the California coast—orphaned at much too young an age to survive on their own. Caring people like you are keeping The Marine Mammal Center's rescue and care operations going for marine mammals in need.
A small ball of fuzz spotted on a sandy beach in Bolinas, California, turned out to be a northern elephant seal pup in desperate need of rescue. Thanks to the beach-goers who called our rescue hotline, this young female became the first elephant seal pup admitted to our hospital this year. She was named after Michael Zehr, one of the volunteers who responded to the call for help, to celebrate his first successful rescue.
Upon rescue, our trained responders suspected Zehr had been separated from her mother too early. She was very thin and still sporting some of her blackcoat, or baby fur, which elephant seals shed once they've weaned from their mother.
After Zehr was safely transported to our hospital, our veterinarians gave her an exam where they determined that she was about one month old. At just 67 pounds, which is below average birth weight for this species, it was clear she wasn't getting the nutrition she needed out in the wild. An elephant seal pup Zehr's age should weigh nearly 300 pounds.
Luckily for Zehr, kind supporters like you had made sure animal care staff and volunteers were at the ready to give her the medical attention needed. Fluids and tube-feedings of fish-mash smoothies were administered to help her stabilize and gain weight.
It didn't take long for Zehr to start to regain her strength—just one week after she was admitted, our volunteers were able to begin fish school with her. This is when specially trained volunteers use tactics like dragging fish on a string through the water to engage a pup's natural instinct to catch fish.
You'll be happy to learn that after just a couple of fish school lessons, Zehr started eating whole fish! It's truly a "lightbulb moment" when seal pups like Zehr learn that fish is food. Thanks to the patience and expertise of our volunteers leading fish school, Zehr is now eating on her own and practicing competing with her pen-mates for her meals. Learning these vital skills increases her chance of survival after release back into the wild.
Along with her interest in eating whole fish on her own and putting on a healthy amount of weight, Zehr has shown other signs that she is steadily improving over the course of her time at our hospital. For example, animal care volunteers and staff note that Zehr loves to "talk" and can be heard squawking and vocalizing nearly all hours, meaning her energy level is stable.
Part of Zehr's transformation from a skinny, helpless pup to a seal ready to return to the wild included shedding her baby fur. Soon after arriving at our hospital, she began to molt (or shed) her fuzzy blackcoat, and tufts of hair could be seen flying everywhere on windy days! She has now replaced that baby fur with a smooth, silvery coat.
Our veterinary experts say Zehr will soon be ready for release if she continues her steady improvement. No matter what's happening in the world today, the possibility of providing second chances to orphaned pups like Zehr keeps us going.
Did you know it's only because of support from caring people like you that makes this life-saving work possible? You can save lives all year long by becoming a monthly donor today.
Yes, I want to save a life!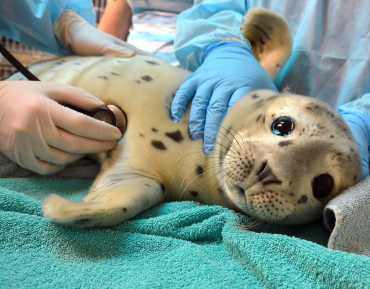 Yes, I want to save a life!
You'll be giving sick and injured animals the best possible care at the Center's state-of-the-art hospital. With your gift today, you are giving a patient a second chance at life in the wild.