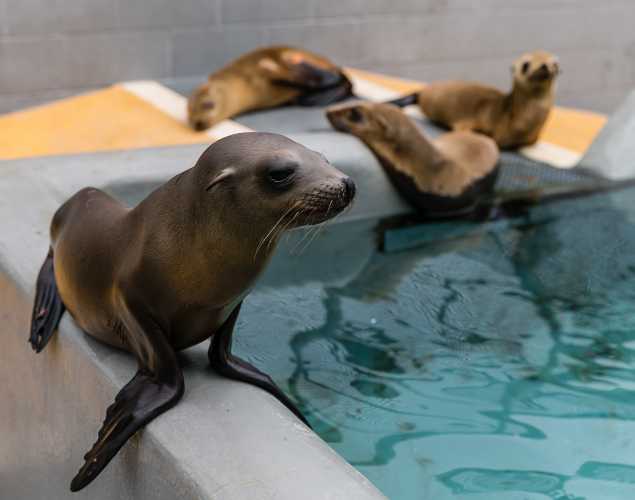 Patient Update
Sea Lions Are the Latest Species Impacted by Changing Ocean Conditions
Domoic acid
Malnutrition
Climate change
With Unusual Mortality Events already declared for gray whales and Guadalupe fur seals, The Marine Mammal Center is now responding to an influx of starving young California sea lions as well as adult sea lions debilitated by domoic acid poisoning.
Looking at the patient pens from The Marine Mammal Center's upper viewing deck a few months ago, you would've seen over 100 orphaned elephant seal pups learning the skills needed for life in the wild. From that same vantage point today, you'd see a drastically different patient population.
Now, nearly three-quarters of our patients are California sea lions—a number that hasn't dipped below 100 in the last two weeks. More alarming than the sheer number of sea lions in our care is the breakneck speed at which that patient count escalated.
At the end of April, 46 California sea lions had been rescued. Two months later, that stat has risen to more than 375. Our volunteer response teams are rescuing more than a dozen California sea lions every day and transporting them to our hospital for care.
Starving Young Sea Lions
It's not unusual for us to see California sea lions stranding this time of year as one-year-old animals wean from their mothers and strike out on their own in search of food. California sea lions typically spend their first year with their mother on the Channel Islands, which is the main rookery for this species. This means that the young sea lions we're responding to on our coast are at an appropriate age to be away from their mothers.
But the increased number of starving young sea lions is of particular concern given what National Marine Fisheries Service observers, including one of our animal care specialists, saw during a recent trip to the rookery to assess the health of the population.
"Yearling sea lions that are still on the Channel Islands are generally healthy," says Dr. Cara Field, the Center's Staff Veterinarian. "This leads us to believe that something is going wrong during their journey from the rookery to the California coastline."
Dramatic influxes of starving young sea lions in the past have been driven by intense swings in ocean conditions such as those observed during the El Niño Southern Oscillation and the "the Blob" of 2015. You may remember this 2015 event—which we dubbed the "sea lion tsunami" and the "furnado" —when unprecedented numbers of California sea lions and fur seals were pouring through our doors, suffering from the impacts of greatly reduced food availability associated with climate change.
This year's El Niño conditions are not nearly as extreme as seen previously, but experts say even weak patterns have potential to tip the ocean off-kilter, especially when compounded by the effects of warming waters worldwide, which has made the ocean environment increasingly unpredictable.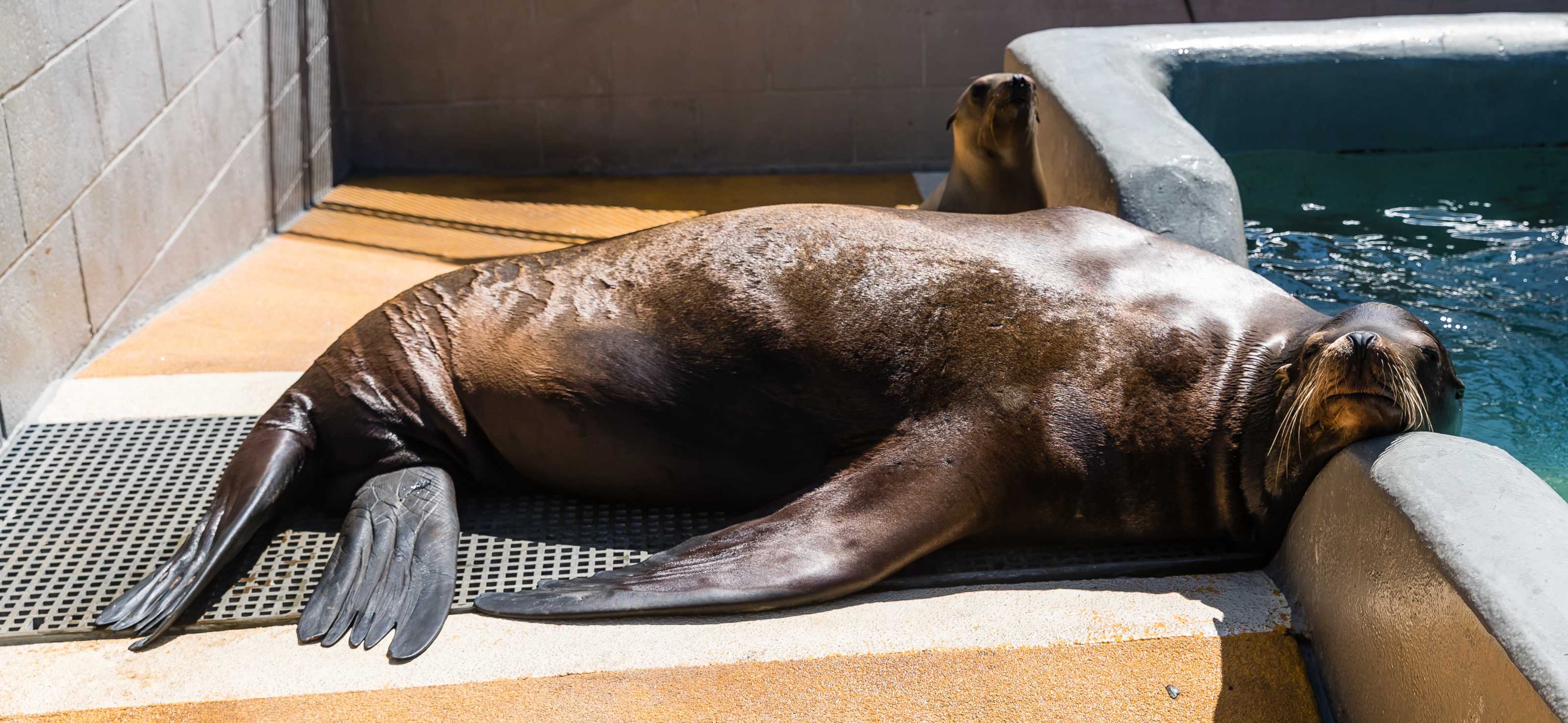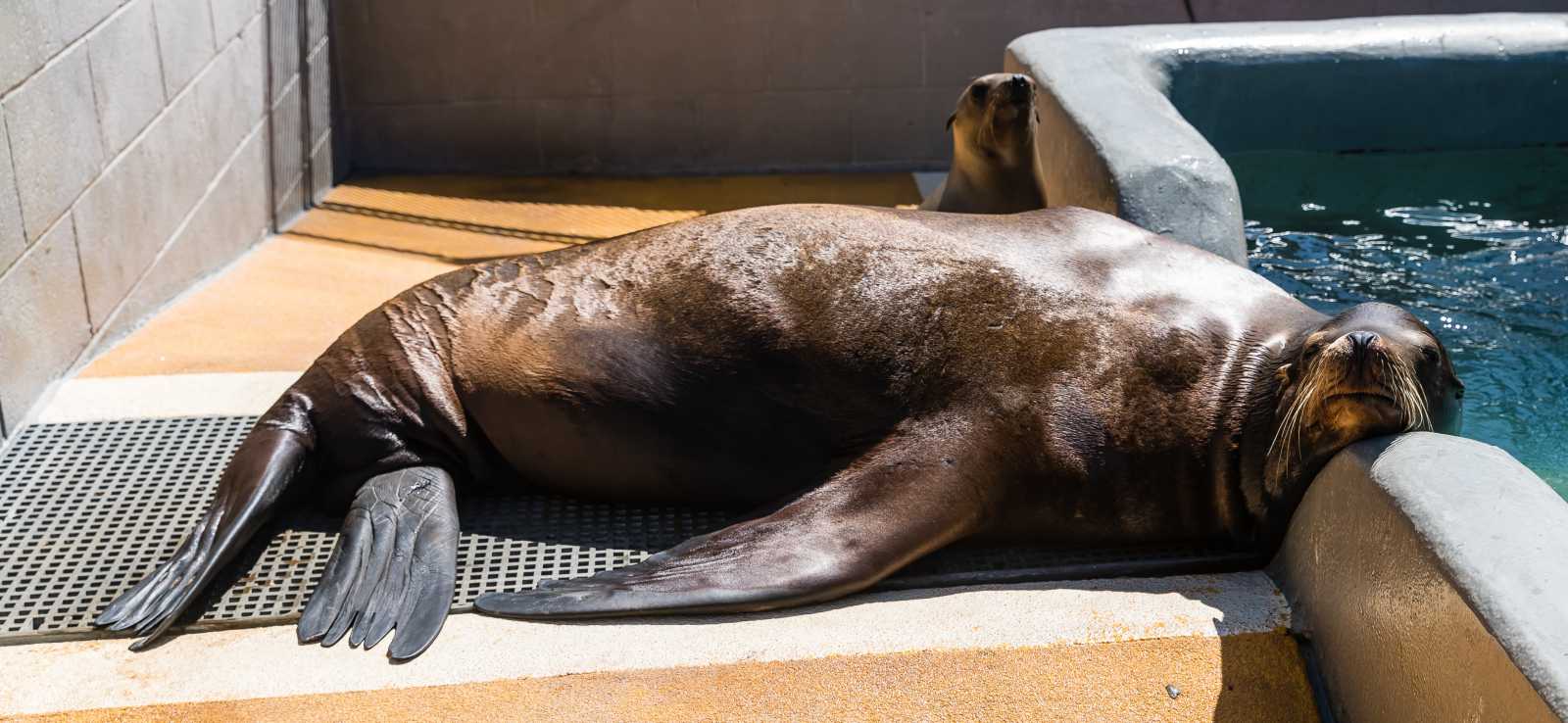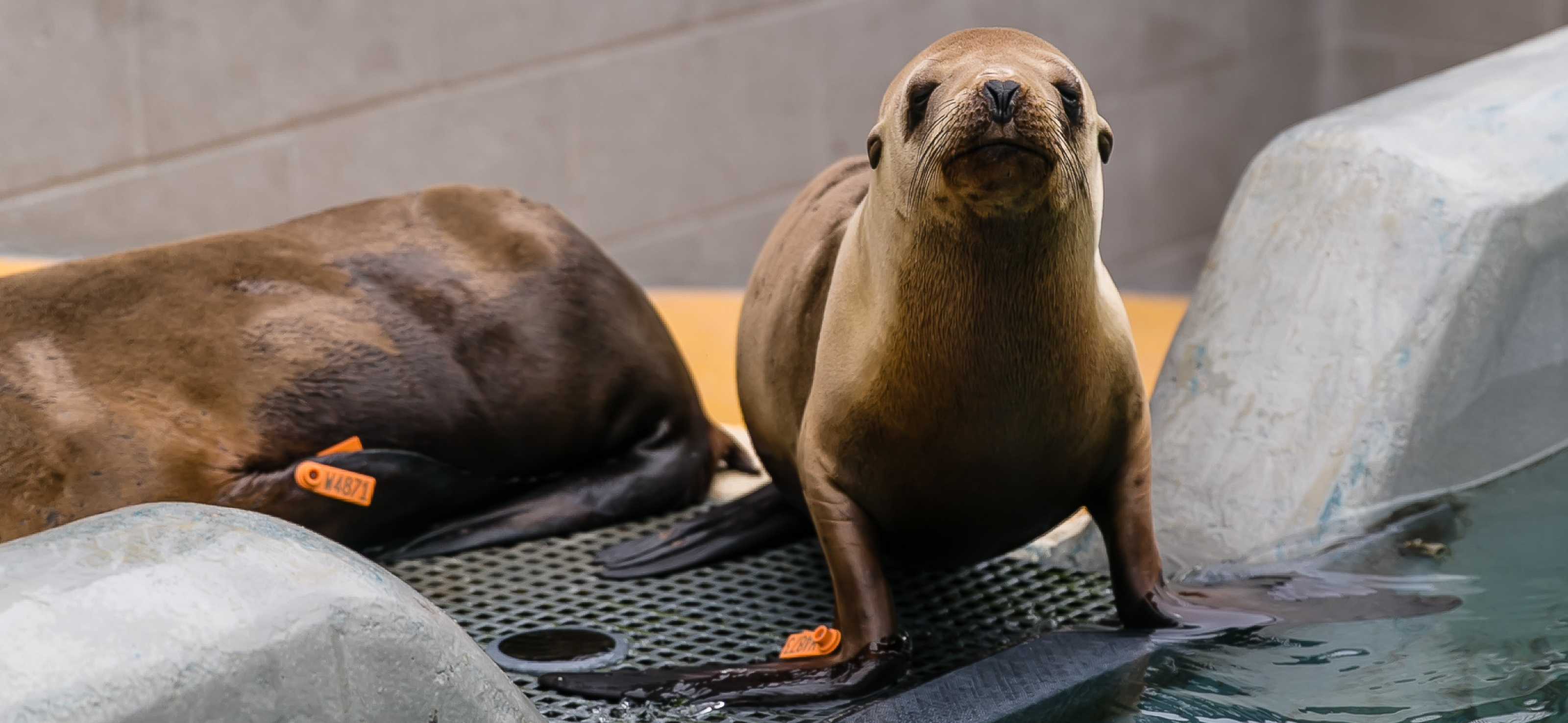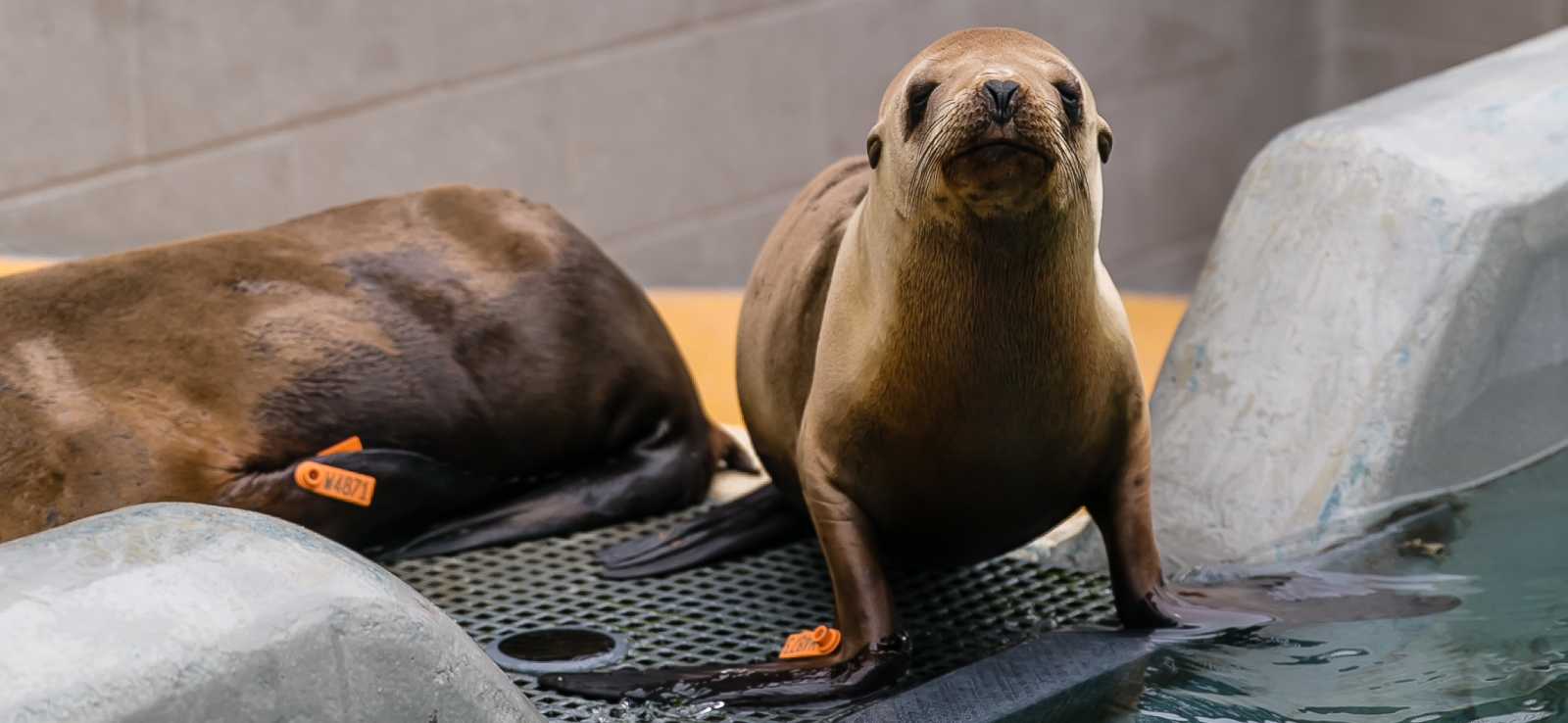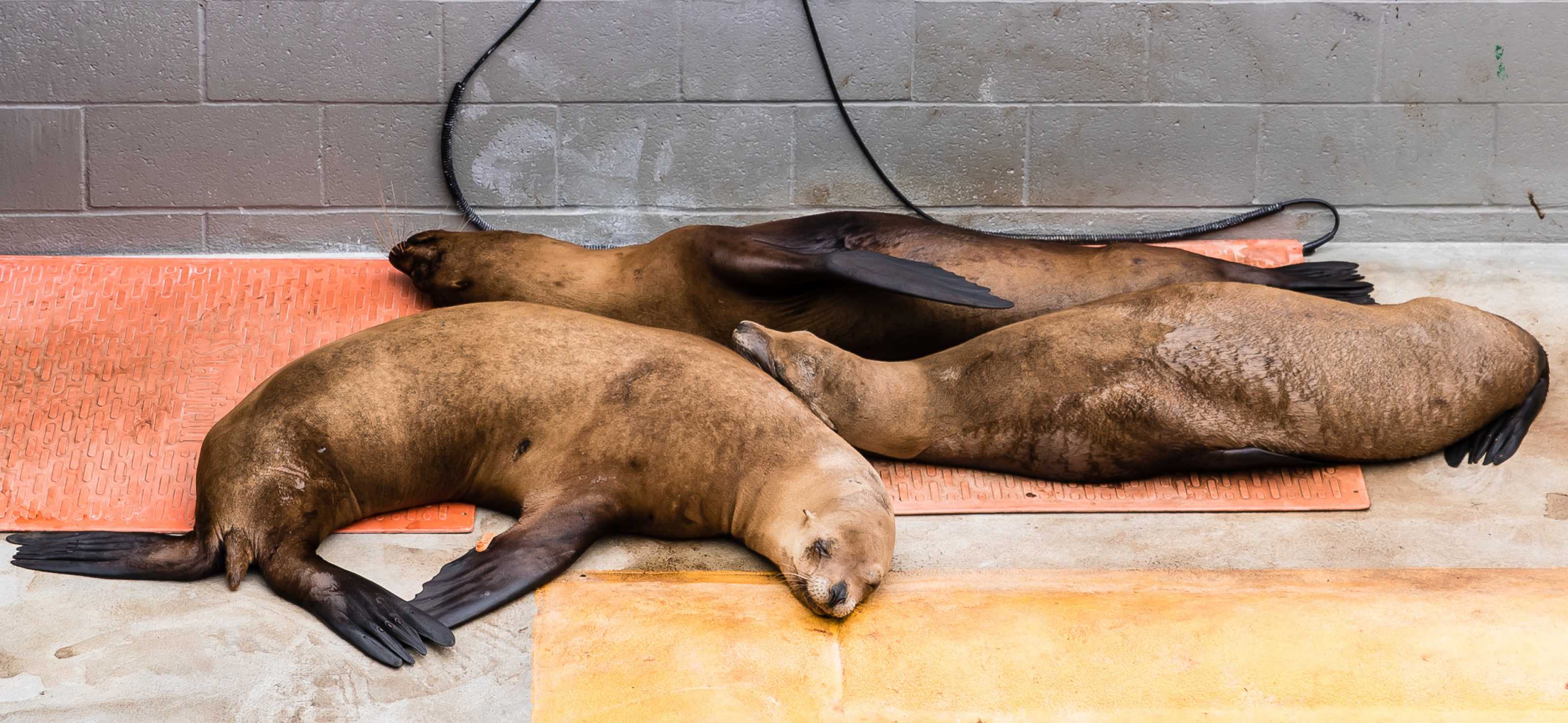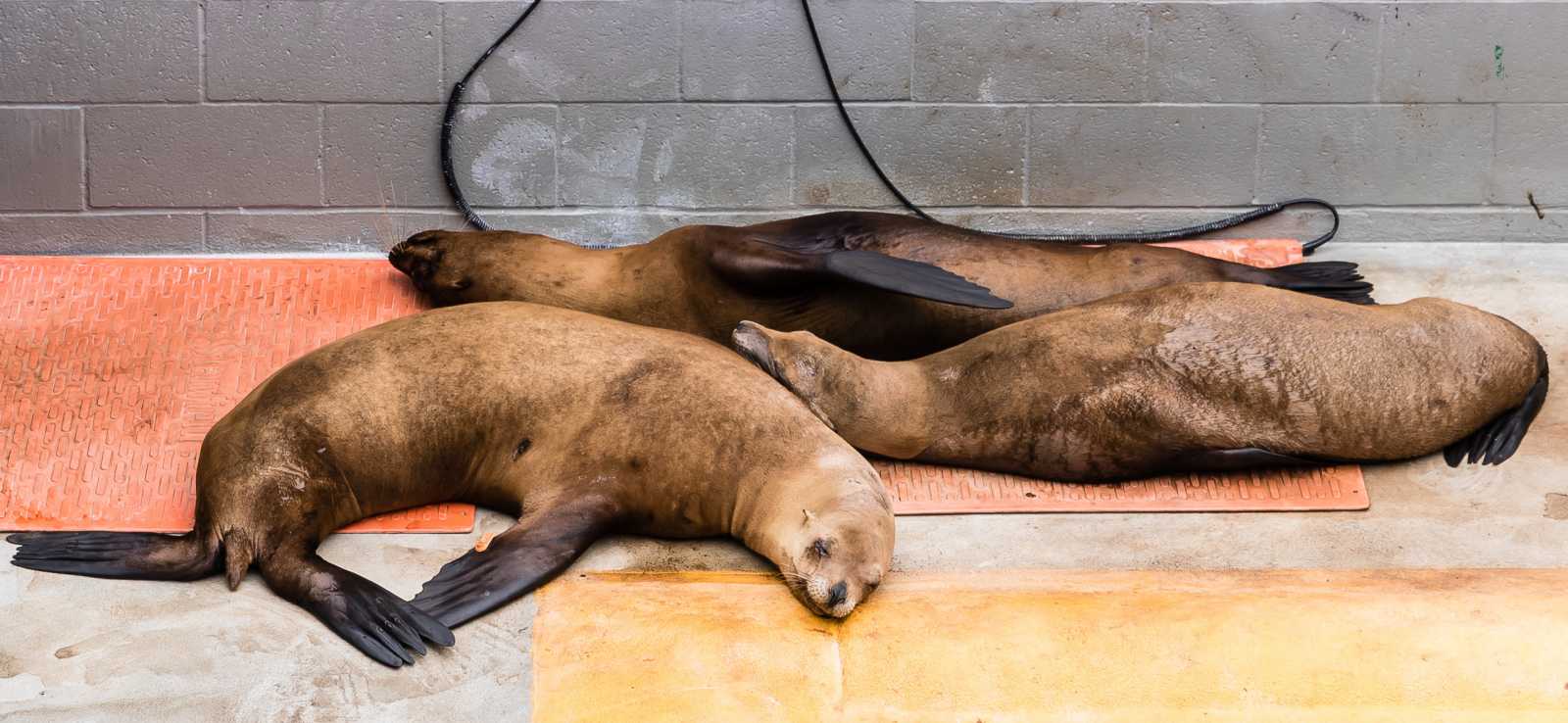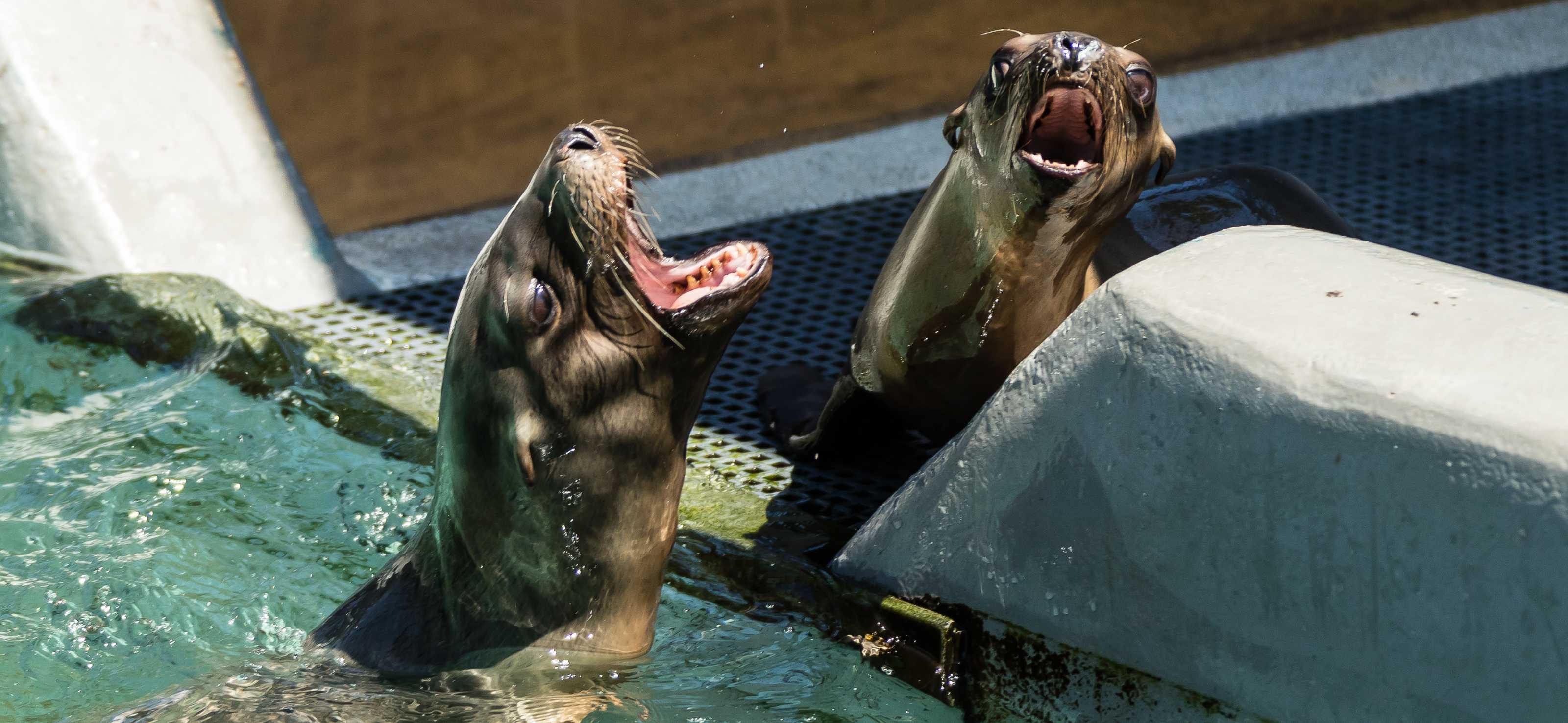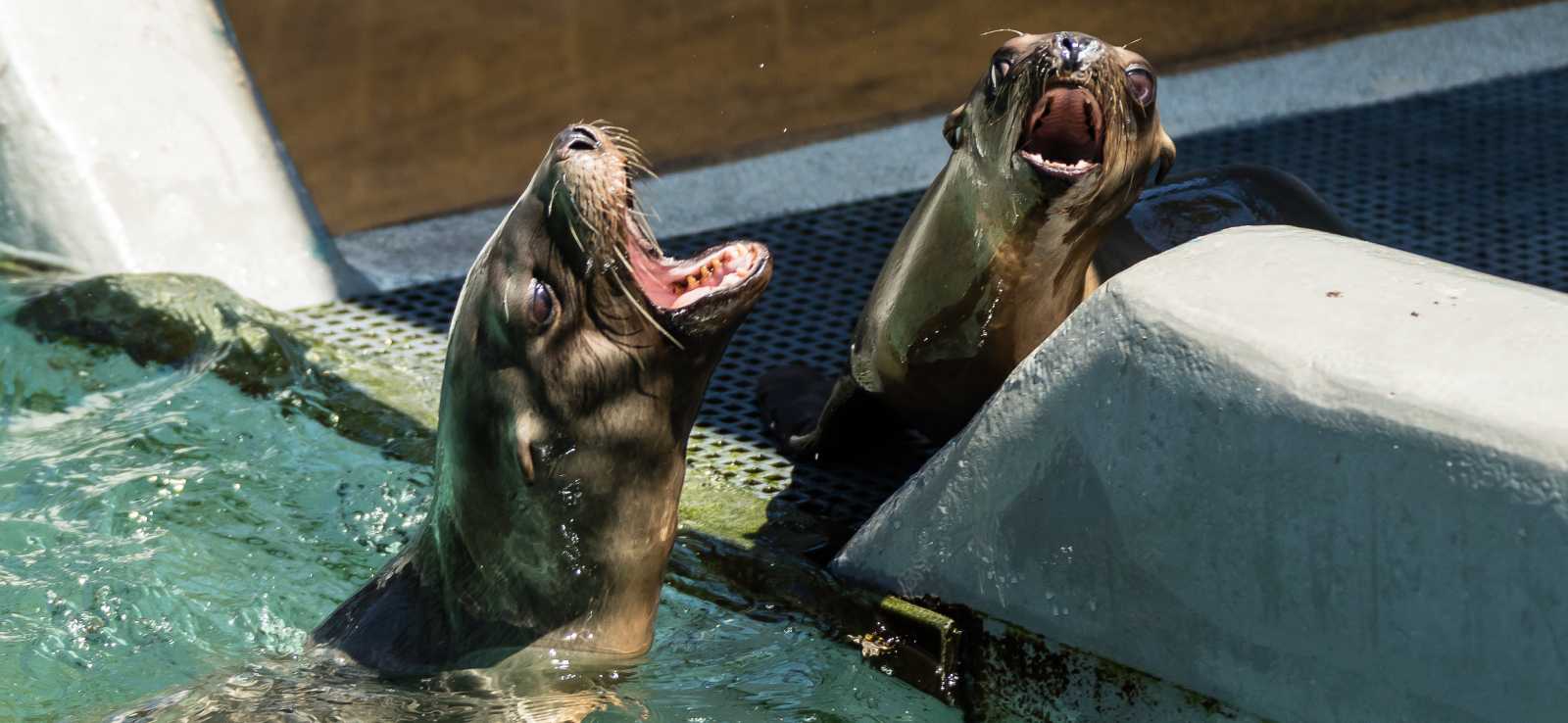 Domoic Acid Outbreak
It's not only young and malnourished sea lions that are being affected by these changing ocean conditions. Dozens of adult and sub-adult California sea lions have stranded over the last few weeks displaying neurological abnormalities and seizures, reliable signs of domoic acid poisoning.
"We're still in the thick of this outbreak, and we may continue to see the impacts of this bloom for months to come," says Dr. Field.
Our dedicated animal care volunteers are giving so much of their time and compassion to ensure these animals have the very best chance at surviving this debilitating condition.
Domoic acid is a neurotoxin produced by certain algae during harmful algae blooms (sometimes known as "red tides"). The severity and production of blooms is complex, but often changes with water temperature and available nutrients. This neurotoxin accumulates over time in small fish, which are then eaten by sea lions and other marine animals in large quantities. Exposure to the toxin causes sea lions to become lethargic, disoriented and have seizures similar to epilepsy in humans.
Humans who eat seafood contaminated with domoic acid can also experience a life-threatening condition known as amnesic shellfish poisoning as well as gastrointestinal upset. Because sea lions are often the first to be affected by a toxic algal bloom, we alert the public health department when we see an outbreak like this, allowing them to better target their surveillance to protect human health.
Experts report a toxic algal bloom is active in San Luis Obispo County right now, and the California Department of Public Health has issued a shellfish safety notification for mussels, clams and scallops.
Though most of the sick sea lions we've rescued to date have come from the beaches of San Luis Obispo County, recently other counties within our rescue range have started to see sea lions displaying these concerning symptoms.
Out in the wild, domoic acid will naturally leave an animal's system over time, but sea lions repeatedly exposed to the toxin will suffer longer-lasting and more serious effects including permanent brain damage. If these animals come into our care before significant damage occurs, we are often able to help by giving them anti-seizure medication and fluids to help flush the toxin from their systems.
In recent years, the Center's veterinary team has been investigating new therapies to help reduce the amount of inflammation and subsequent damage to the brain while the animal is recovering.
A New Normal
Since first diagnosing domoic acid toxicosis in California sea lions in 1998, experts at the Center have watched it evolve from affecting sea lion patients seasonally – primarily late summer – to year-round. The last big outbreak was during "the blob" in 2015, when a record-breaking algal bloom stretched along the Pacific coastline and heavily impacted sea lions from southern California to Alaska. The bloom also impacted fisheries in California, Oregon and Washington, causing economic ripple effects up and down the coast.
The timing of this year's domoic acid outbreak is earlier than the Center has experienced in recent years, which means we've had an increased number of pregnant female sea lions stranding. The prognosis for the newborn sea lions is usually very poor. Scientific studies led by our experts confirm that newborns exposed to this biotoxin in utero have chronic negative effects that compromise their long-term health and most commonly end in suffering and death, often at a very young age.
Although most of the patients we treat for domoic acid toxicity are California sea lions, other marine mammals are susceptible to its effects too. This includes two threatened species we also routinely treat, southern sea otters and Guadalupe fur seals.
"As ocean conditions continue to deteriorate, we shouldn't be surprised to see an increase in stranded animals year after year," Dr. Field says. "Unfortunately, this is our new normal, and we have to respond—not just by rescuing suffering animals but by investigating why these animals are stranding and addressing human-caused threats like climate change that are impacting marine ecosystems on a global scale."
You Can Make A Difference
You see, it's people like you who make it possible for sick and starving California sea lions to get the critical care they need to be successfully returned to their ocean home. Your contribution goes a long way to help individual patients as well as support scientific research that will help ensure a healthy ocean future for marine mammals and humans alike.
Yes, I want to save a life!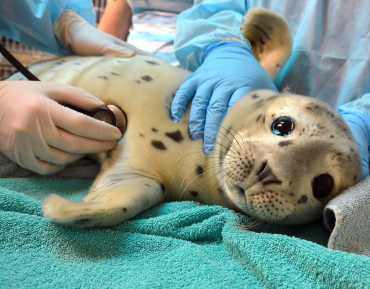 Yes, I want to save a life!
You'll be giving sick and injured animals the best possible care at the Center's state-of-the-art hospital. With your gift today, you are giving a patient a second chance at life in the wild.
domoic acid
malnutrition
climate change

Cara Field

California Sea Lion