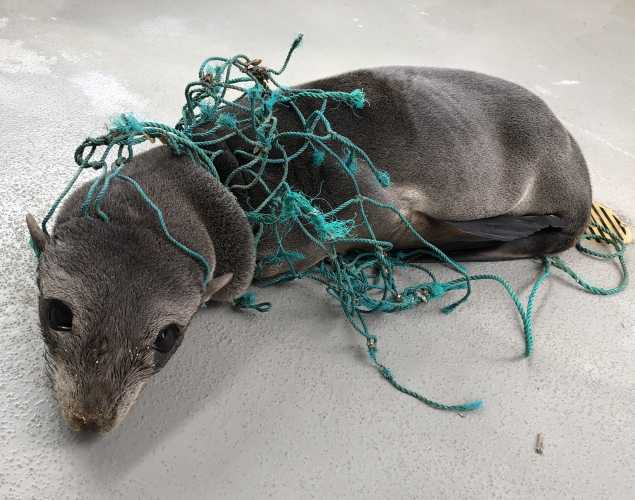 Patient Update
Young Guadalupe Fur Seal Caught in Potentially Fatal Snag
Species conservation
Entanglement
Snaggle, a year-old Guadalupe fur seal that was entangled in fishing gear, recovered from his injuries once the netting was removed and is now swimming free back in his ocean home.
A small gray and teal speck spotted on a sandy beach in Marin, California, turned out to be a rare year-old Guadalupe fur seal with brightly colored netting tightly wrapped around his head and neck. When our trained volunteer responders found the young animal, he had the opposite demeanor of a typical feisty fur seal—it was clear intervention was needed to ensure his survival.
The young Guadalupe fur seal was named "Snaggle" for the thick, teal rope netting wrapped around his tiny body. Upon arrival at our hospital, Snaggle was immediately examined to remove the teal netting that entrapped him and assess the damage.
During his initial admit exam, our veterinarians noted that Snaggle was malnourished and severely underweight. The entanglement likely left him unable to swim well enough to catch food. It was so tight around his mouth and head that it cut into his skin and he could barely open his mouth. He also had an injury on his left front flipper where one of his front "finger" bones was missing.
In addition to his entanglement, flipper injury and skin wounds, Snaggle was diagnosed with anemia – a condition marked by a lack of red blood cells, resulting in fatigue – so our veterinarians began treating him for that as well.
Fortunately, Snaggle recovered well after he was disentangled, and X-rays showed that his missing flipper bone had healed well. His energy level returned to normal, and he began catching whole fish on his own. After multiple weeks undergoing rehabilitative care, Snaggle had gained enough weight to be returned to the wild.
But during Snaggle's release exam, blood tests revealed the anemia had persisted despite the treatment he was receiving and his otherwise healthy appearance.
Back to the hospital pen he went!
This time, Snaggle was placed in a pen with a larger pool, with the hope that the opportunity to swim and dive more deeply would stimulate the production of red blood cells in his system. Aside from his anemia, Snaggle was at a healthy weight and in very good body condition.
At The Marine Mammal Center, our goal is always to release healthy animals back to the wild, but this is especially important for rare species like Guadalupe fur seals. With an estimated 40,000 alive today, Guadalupe fur seals are listed as threatened under the Endangered Species Act. Not much is known about these animals partly because they spend most of their time far from shore and rarely come onto land outside their breeding grounds on islands off California and Baja California.
That's why we're working with our partners in Mexico to learn more about this elusive species. Researchers like Tenaya Norris, a marine scientist at the Center, are collecting valuable data from animals found at the breeding sites to learn more about where these animals go in the ocean, how much time they spend on land, and how many of these animals there actually are in the population each year.
This information will not only improve our care regimen for Guadalupe fur seals here at our hospital but will also aid in the greater understanding of the species with the ultimate goal of helping them grow in number and thrive as a population.
Fortunately, Snaggle's story has a happy ending: After three months in rehabilitative care, Snaggle had finally produced normal numbers of red blood cells, healed from his entanglement wounds, and was ready for a second chance at life in his ocean home. He was released back to the wild along with several California sea lions, elephant seals and harbor seals that also were rehabilitated at our hospital.
You Can Make a Difference
As you can imagine, ocean trash is a persistent threat to all marine mammals. Since 1975, the Center has responded to hundreds of patients suffering from human-caused problems and injuries. None of this work would be possible without the support of compassionate people like you.
You can help provide the critical care needed by patients like Snaggle as well as support our efforts to encourage ocean policy changes and inspire people to change their own habits to ensure a healthy ocean future for marine mammals and humans alike.
Give to Help Entangled Animals like Snaggle
---
Header image: photo © The Marine Mammal Center / NOAA permit #18786
Yes, I want to save a life!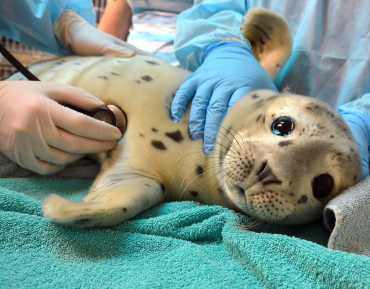 Yes, I want to save a life!
You'll be giving sick and injured animals the best possible care at the Center's state-of-the-art hospital. With your gift today, you are giving a patient a second chance at life in the wild.
species conservation
entanglement

Guadalupe Fur Seal