Baker D, a young bottlenose dolphin, was underweight, suffering from dehydration and had a puncture wound on his snout when he was rescued at Baker Beach in San Francisco. When transported to a rehabilitation pool at The Marine Mammal Center, he did not have the strength to swim on his own and was put into a floating support sling to prevent him from drowning.
Thanks to antibiotics, medications to help stabilize his heart, weeks of round-the-clock care and feedings from volunteers and veterinary staff at the Center, Baker D regained his health and began to swim on his own.
He was released with a satellite tag in Monterey Bay near a pod of dolphins, but quickly left them. According to signals from his tag, he actually favored a different pod near the Channel Islands.
Age at Admit

Juvenile

Sex

Male

Location

Baker Beach, San Francisco

Status

Released

Release Location

Monterey Bay
Yes, I want to save a life!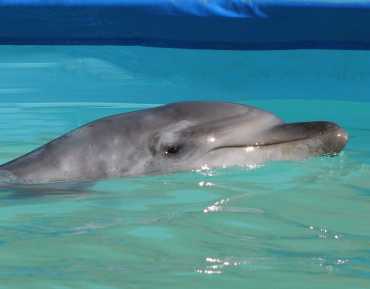 Yes, I want to save a life!
You'll be giving sick and injured animals the best possible care at the Center's state-of-the-art hospital. With your gift today, you are giving a patient a second chance at life in the wild.