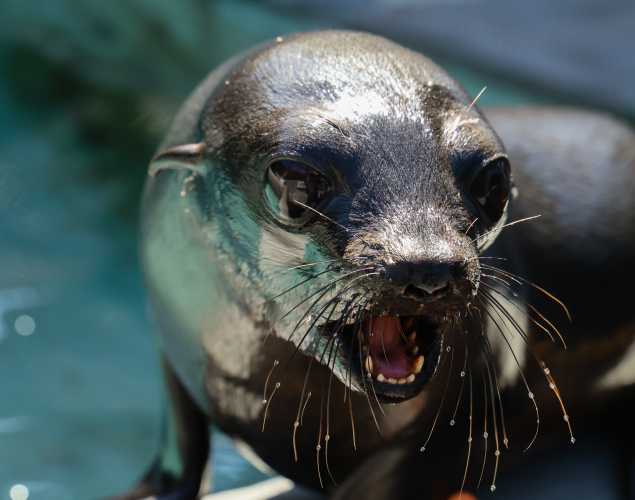 Snippet
Guadalupe Fur Seal
Arctocephalus townsendi
Guadalupe fur seal pup Snippet was spotted on a beach looking extremely underweight and lethargic. She was brought to our hospital where our veterinarians discovered she weighed just 14 pounds—barely over birth weight—despite being about 10 months old. Along with malnutrition, Snippet was diagnosed with anemia, which is a condition marked by a lack of red blood cells.
At first, Snippet was gently tube-fed "fish smoothies" to help her get the nutrition she needed before she transitioned to whole fish. She soon began to steadily gain weight and interact with her pen-mates.
In true Guadalupe fur seal fashion, Snippet was stubborn and would often refuse the frozen herring, anchovy and squid she was offered at mealtimes. However, she was observed chasing and eating the live fish our animal care experts provided.
After nearly three months of care, Snippet had gained a healthy amount of weight and her anemia resolved. She was deemed ready for life back in the wild and was released back to her ocean home.
---
photo by Bill Hunnewell © The Marine Mammal Center / NOAA permit #18786
Age at Admit

Pup

Weight at Admit

6.50 kgs

Sex

Female

Rescue Location

Manresa State Beach (South End) - Watsonville, Santa Cruz

Diagnosis

Malnutrition, Anemia

Admitted

04/07/2021

Status

Released

Release Date

07/01/2021

Release Location

Chimney Rock
Yes, I want to save a life!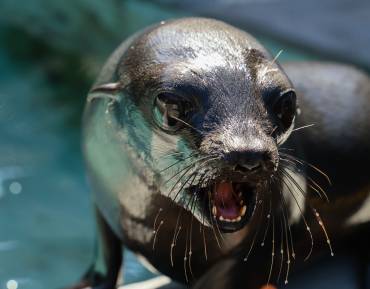 Yes, I want to save a life!
You'll be giving sick and injured animals the best possible care at the Center's state-of-the-art hospital. With your gift today, you are giving a patient a second chance at life in the wild.