This patient is a northern fur seal, a species that we typically see stranding toward the end of the year. As a species that lives in the open ocean, these fur seals rarely come to shore except for when they are sick or injured.
Northern fur seals are especially sensitive to changes in their environment, as seen in the record numbers of sick or starving fur seals rescued and cared for at our hospital during years when we have seen El Niño conditions.
Age at Admit

Pup

Weight at Admit

6.50 kgs

Sex

Male

Rescue Location

San Simeon Pier (Hearst Memorial State Beach) - San Simeon, San Luis Obispo

Diagnosis

Malnutrition, Maternal separation, Enteropathy

Admitted

09/27/2020

Status

Released

Release Date

01/04/2021

Release Location

Chimney Rock
Yes, I want to save a life!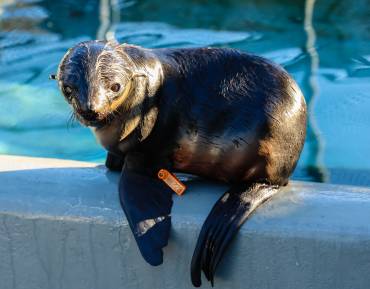 Yes, I want to save a life!
You'll be giving sick and injured animals the best possible care at the Center's state-of-the-art hospital. With your gift today, you are giving a patient a second chance at life in the wild.