Steller sea lion Smores was found alone on a beach at just a few months old. At the Center, Smores was housed with many different patients. Spending time with companions of different species and ages helps Steller sea lion pups avoid habituating to humans while learning important behavior skills.
Smores formed a quick bond with a northern fur seal that was about 100 pounds smaller than her. After nine months of rehabilitation, Smores was released near the Farallon Islands, a marine sanctuary that is home to many other Steller sea lions.
Age at Admit

Pup

Weight at Admit

54.00 kgs

Sex

Female

Location

Centerville Beach - Ferndale, Humboldt

Diagnosis

Maternal separation

Admitted

12/07/2017

Status

Released

Release Date

04/18/2018

Release Location

Fishermans Bay - Farallon Islands
Yes, I want to save a life!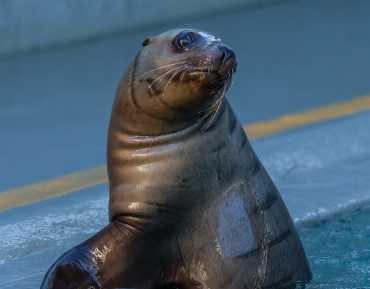 Yes, I want to save a life!
You'll be giving sick and injured animals the best possible care at the Center's state-of-the-art hospital. With your gift today, you are giving a patient a second chance at life in the wild.