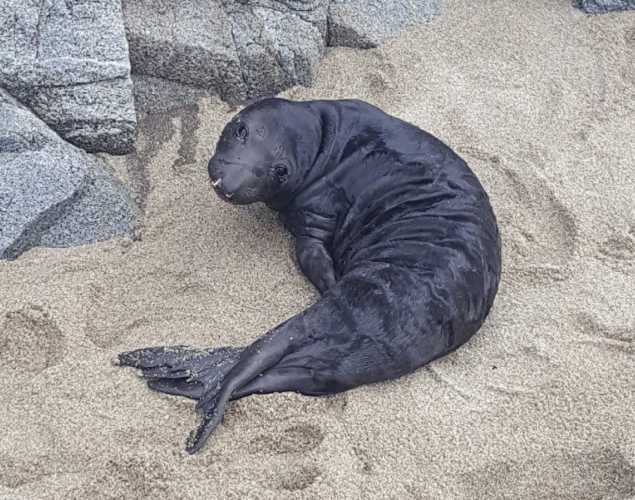 Patient Update
First Elephant Seal Pup Admitted to Our Hospital, Signaling the Start of Pupping Season
As strong storms coincide with pupping season, we are likely to see more elephant seal pups on their own and in need of rescue. If you see a marine mammal in distress, call our 24-hour hotline: 415-289-SEAL (7325).
It was less than a week after the clock struck midnight, launching us into 2021, when our 24-hour hotline was rung by a concerned beachgoer. They called to report a small seal that was all alone and looking like it was in desperate need of help.
Our trained response volunteers were dispatched, and after carefully evaluating the scene they rescued the young seal and transported it to our main hospital in Sausalito. Named Stoffle, this pup became the first northern elephant seal patient of the new year.
While Stoffle's exact age cannot be determined, our veterinarians could tell that he was much too young to be on his own in the wild.
The biggest indication was Stoffle's blackcoat, which is an elephant seal's baby fur. Elephant seals molt, or shed, this baby fur for a smooth, silvery coat at about one month old after they've weaned from their mother.
Not only was Stoffle separated from his mother when he should have still been nursing with her, but he was also quite skinny. Upon admit, he weighed in at approximately 91 pounds, whereas if he were in the wild, he would likely be approaching 300 pounds at this age.
Yet, despite being underweight and displaying a few minor wounds, this young elephant seal pup looked to be in good overall health. In fact, during his admit exam, Stoffle was very active as he was vocalizing and rolling around—a good sign that he will grow into a seal that can thrive in the wild.
Meet Northern Elephant Seal Pup Stoffle
Stoffle is a northern elephant seal, our second most commonly rescued species. We typically see orphaned pups that have stranded during mid-February to late June. Strong storms often wash these young seals off beaches before they have weaned from their mothers or learned how to survive on their own. This results in many malnourished and underweight pups needing rehabilitative care.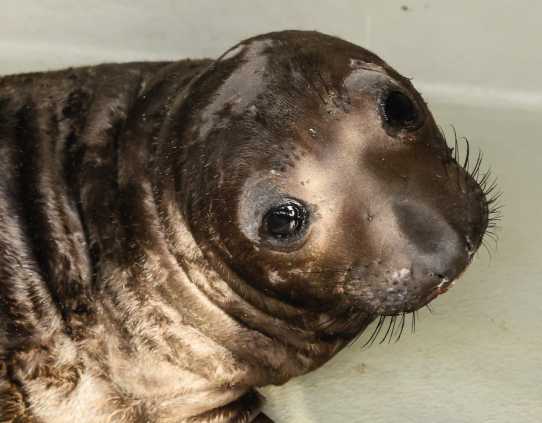 Stoffle has a long way to go before he is ready to be released. He must shed his baby fur, learn how to catch and eat whole fish on his own, and gain a healthy amount of weight.
For now, while he's too young to eat whole fish, Stoffle is getting his nutrition from daily tube-feedings of fish-mash smoothies. As Stoffle beings to shed his baby fur, he'll start the transition to eating whole fish and will begin lessons in fish school. This is when our specially trained volunteers use tactics like dragging fish on a string through the water to engage a pup's natural instinct to catch fish.
Once Stoffle masters the art of eating whole fish, he will practice catching them on his own and competing with his pen-mates for their fishy meals. Learning these vital skills increases an elephant seal pup's chance of survival after release back into the wild.
Right now, Stoffle is one of just two elephant seal pups at our main hospital, but it likely won't stay that way for long. "Over the past month, female elephant seals have been hauling out on rookeries up and down the California coast and birthing their pups," says Dr. Michelle Rivard, our Intern Veterinarian.
Sadly, many of our elephant seal pup patients, including Stoffle, are suspected to have been separated from their mother due to high tides encroaching on these rookery beaches and strong storms, which are linked to climate change, sweeping young pups into the surf.
As these strong storms continue to coincide with pupping season, we are likely to see many more elephant seal pups in need of rescue over the coming months.
If you see an elephant seal mother and pup, or any marine mammal, it's important to remember that the best thing you can do for these animals is to leave them be. Keep your distance and call our hotline at 415-289-SEAL (7325) if you see a marine mammal in distress.
Do You Want to Be a Marine Mammal Hero?
Top photo © Isabel Staples
Yes, I want to save a life!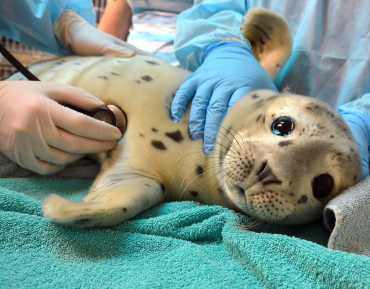 Yes, I want to save a life!
You'll be giving sick and injured animals the best possible care at the Center's state-of-the-art hospital. With your gift today, you are giving a patient a second chance at life in the wild.
malnutrition

Northern Elephant Seal