Northern elephant seal pup Shrub was found on a beach malnourished and suffering from a dangerous parasite. She clearly wasn't getting enough to eat out in the wild, and likely would have faced a tragic fate without help. Luckily, Shrub was rescued and brought to our hospital where she received the medical care she desperately needed to heal. As Shrub began to eat her nutritious fish meals, she slowly put on a healthy amount of weight and regained her strength. Part of Shrub's rehabilitation also involved engaging in specialized enrichment activities to develop natural behaviors and critical survival skills. Enrichment items like imitation kelp and balls with fish hidden inside encouraged problem-solving and exploration of her environment. After months of care, Shrub was ready for life in the wild where she could venture into the open ocean and dive to amazing depths foraging for food.
Age at Admit

Pup

Weight at Admit

39.00 kgs

Sex

Female

Rescue Location

Doran Beach Regional Park (Entrance) - Bodega Bay, Sonoma

Diagnosis

Malnutrition, Ocular abnormality, Otostrongyliasis

Admitted

09/17/2022

Status

Released

Release Date

12/01/2022

Release Location

Chimney Rock
Yes, I want to save a life!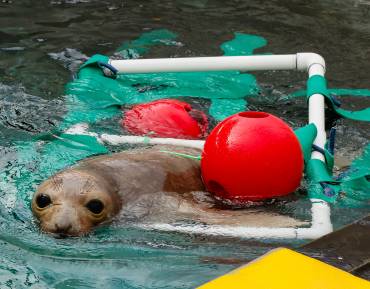 Yes, I want to save a life!
You'll be giving sick and injured animals the best possible care at the Center's state-of-the-art hospital. With your gift today, you are giving a patient a second chance at life in the wild.