Harbor seal pup Woody was rescued from what would have been a sad fate. She was found motherless and starving—with no way to get the nutrition she needed.
At the Center, she was tube-fed a nutritious formula to help her grow strong and gain a healthy amount of weight.
During "fish school," when harbor seal pups learn life skills, Woody wasn't as interested in the fish as her pen-mates were. As other harbor seal pups learned skills like competing for fish, Woody would watch them or play with the fish.
But once Woody had her "light-bulb moment," she started to eat the fish and not just play with them! Just a few weeks later, Woody was ready for her second chance out in the wild and was released with other young harbor seals.
Age at Admit

Pup

Sex

Female

Rescue Location

The Sea Ranch (ATOS -335) - The Sea Ranch, Sonoma

Diagnosis

Malnutrition, Maternal separation

Admitted

04/10/2018

Status

Released

Release Date

06/15/2018

Release Location

Chimney Rock - Point Reyes National Seashore
Yes, I want to save a life!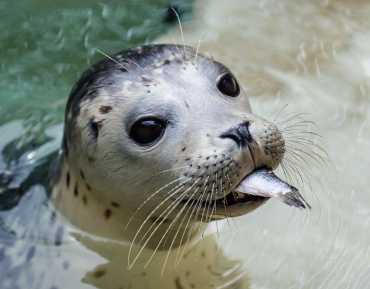 Yes, I want to save a life!
You'll be giving sick and injured animals the best possible care at the Center's state-of-the-art hospital. With your gift today, you are giving a patient a second chance at life in the wild.