Concerned beachgoers called our 24-hour hotline after spotting a small fluffy figure alone on the beach. Thanks to these everyday heroes, harbor seal Aquapup was brought into our care after being separated from his mother too soon.
During his admit exam, he was sporting a fluffy lanugo coat often seen on newborn pups, and our veterinarians noted he didn't have any teeth or tooth buds — indicating he was merely days old. This meant our hard-working volunteers needed to feed him a special milk formula nearly around the clock to keep him nourished those first few days.
Thanks to the heroic efforts of the concerned beachgoers and our animal care team, as well as support from people like you, Aquapup graduated from fish milkshakes to fish school, where he learned to eat whole fish on his own. He was released with the skills he would need to survive in the wild and a second chance at life.
Age at Admit

Pup

Weight at Admit

6.00 kgs

Sex

Male

Rescue Location

Moonstone Beach Boardwalk (Castle Inn) - Cambria, San Luis Obispo

Diagnosis

Malnutrition, Maternal separation

Admitted

02/22/2019

Status

Released

Release Date

05/01/2019

Release Location

Chimney Rock - Point Reyes National Seashore
Yes, I want to save a life!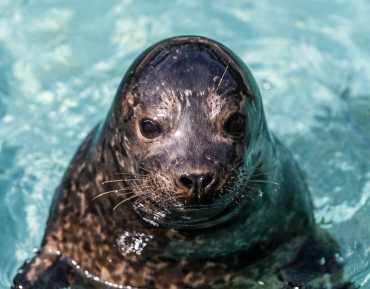 Yes, I want to save a life!
You'll be giving sick and injured animals the best possible care at the Center's state-of-the-art hospital. With your gift today, you are giving a patient a second chance at life in the wild.