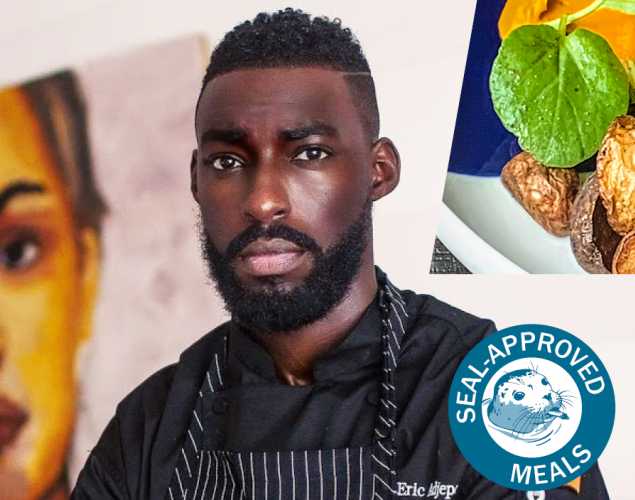 Press Release
Center Joins Top Chef to Celebrate Sustainable Seafood for Earth Day
The Marine Mammal Center and Top Chef Eric Adjepong To Celebrate the 50th Anniversary of Earth Day with Weeklong Culinary and Learning Events
The Marine Mammal Center – the world's largest marine mammal hospital – honors the 50th anniversary of Earth Day with a weeklong, at-home celebration in partnership with celebrity Top Chefs to showcase the importance of sustainable fishing and farming to a healthy ocean.
Seal-Approved Meals: Earth Day Eats is led by Bravo's Top Chef finalist Eric Adjepong, who will roll out cooking tutorials and scrumptious recipes and host Facebook Live events from April 15 through April 24.
Worldwide, people consume nearly double the amount of seafood they did 50 years ago. Depleted fish stocks and destructive fishing practices threaten marine ecosystems vital to the health of the ocean.
The Marine Mammal Center focuses on rescuing and rehabilitating marine mammals, so it knows firsthand that sustainable seafood is a crucial nutrient source for these animals. During pupping season, when the Center rescues hundreds of injured and orphaned seal pups, it needs as much as 1,000 pounds of fish every day to care for hungry patients.
This Earth Day, the Center, Adjepong and other Top Chefs are collaborating to give everyone a way to celebrate at home and to make a positive difference by cooking with sustainable seafood and vegetarian proteins to protect the health of the ocean, and to raise money to support the Center's lifesaving work rescuing and caring for marine mammals in distress.
"This year, we felt a heightened responsibility to help people celebrate Earth Day while at home and while keeping themselves and their community safe. We have been a longtime leader in advocating for sustainable seafood and Earth Day Eats builds on this commitment with help from some of our all-time favorite Top Chefs. We invite you to join us from home in celebrating Earth Day 2020", said Dr. Jeff Boehm, chief executive officer of The Marine Mammal Center.
Each day starting April 15, the Center will release new online educational activities, recipes, and cooking videos to motivate people to make ocean-friendly choices. Adjepong created special Earth Day recipes featuring shrimp, salmon, striped bass and vegetarian options, which the Center augments with downloadable tip sheets on how to select and purchase each type of protein and why choosing sustainable options is important. The recipes, tip sheets and online learning activities will be available for download from the Center's website: MarineMammalCenter.org/EarthDayEats
On April 18, Adjepong joins a star-studded lineup of celebrity Top Chefs, including Michelle Minori, Edmund Konrad, Brian Malarkey and Adrienne Cheatham, with Facebook Live events scheduled throughout the day to discuss sustainable farming, fishing and cooking, and to hear how each chef makes a positive impact on the Earth.
The weeklong event concludes with a National Geographic/ABC primetime special, "BORN WILD: THE NEXT GENERATION," featuring the lifesaving work of the Center's marine mammal hospital. The special, which also celebrates the 50th anniversary of Earth Day, gives viewers a revealing look at the Earth's animals and their ecosystems, which face challenging environmental changes. Narrated by "Good Morning America" anchor Robin Roberts, the special premieres April 22, 2020, at 8 p.m. on National Geographic Channel, Nat Geo WILD and Nat Geo Mundo.
Engage with Adjepong and other Top Chefs engaged with the Center's Seal-Approved Meals: Earth Day Eats activities by following the Center on Facebook and Instagram and Twitter; signing up for the Center's newsletter; and visiting the Earth Day Eats webpage. To help feed starving pups rescued by the Center, text OCEAN to 41444 to donate.
---
For more information or to set up an interview on this topic, please contact us at media@tmmc.org.
Yes, I want to save a life!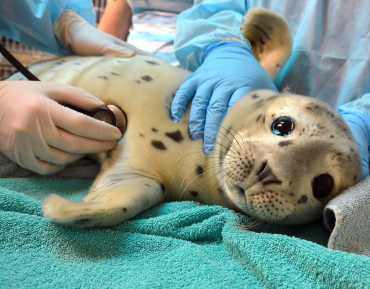 Yes, I want to save a life!
You'll be giving sick and injured animals the best possible care at the Center's state-of-the-art hospital. With your gift today, you are giving a patient a second chance at life in the wild.