News Update
Ways to Help the Ocean at Home During Quarantine
Activities to Do at Home that Benefit The Marine Mammal Center, A Non-Profit that Rescues and Rehabilitates Marine Animals
The new world we live in has caused many of us to slow down, leaving us with extra time to fill. If you're feeling stuck at home and wondering how you can help those in need during quarantine, look no further. We've rounded up a list of ways you can help the ocean with activities you can do at home.
Face Masks Available Now!
Stay safe with your very own marine mammal face mask. Choose from different designs -- all available in both kid and adult sizes.
What's whaley neat is that any purchase you make will support The Marine Mammal Center in advancing global ocean conservation. Support from people like you is critical for marine mammals in need, especially now during pupping season. Dozens of orphaned seal pups are rescued during this time of year, pups that are much too young to survive without help.
We're all in need of a helping hand during times like these. And your purchase will give seal pups and other marine mammals a second chance at life while you get a fun activity to do at home!
We're all looking for creative ways to entertain ourselves at home and connect with our loved ones while staying safe. Personalized certificates featuring past patients, like harbor seal Aquapup and elephant seal Weasley, will be sent monthly to you or the recipient of your choice when you purchase this Adopt-a-Seal® six-month subscription. That's six heartwarming stories to engage with over six months!
You and your family can dive into marine mammal fun with this three-piece activity set. It includes a large puzzle of an Arctic scene, as well as two kid-friendly books full of marine animals. Get ready to put your observation skills to the test, as each activity gives you and your kids the chance to spot all kinds of different ocean animals!
You and your kids can tap into your inner artists with this book filled with fun stickers and coloring pages of ocean scenes! You'll also want to check out these color by number books (Sea Life and Geometric Ocean Life) as well as this intricate ocean-themed coloring book. It's the perfect indoor activity to unwind with.
Tuck in for the evening with this fascinating documentary of one of the greatest migratory marine mammals, the northern elephant seal. This remarkable species is a conservation success story, as they were hunted to near extinction for their blubber. This movie will take you on a deep dive into this species' life of extremes as they battle the never-ending struggle for survival.
Explore over a dozen free activities and experiences for you and your family. You'll learn ways to help the ocean by diving into marine mammal health, science and conservation with activities like bingo, fish school, sing-alongs, videos and more! Be sure to check this page often as new family-friendly activities to do at home are added weekly.
Explore more ways to help the ocean with activities that you can have delivered right to your doorstep!
A purchase of any of our activities to do at home will help to support The Marine Mammal Center's mission of global ocean conservation through marine mammal rescue and rehabilitation, scientific research, and education.
Yes, I want to save a life!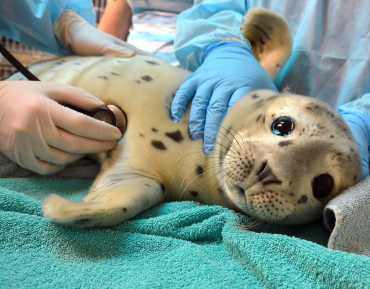 Yes, I want to save a life!
You'll be giving sick and injured animals the best possible care at the Center's state-of-the-art hospital. With your gift today, you are giving a patient a second chance at life in the wild.
gift guide