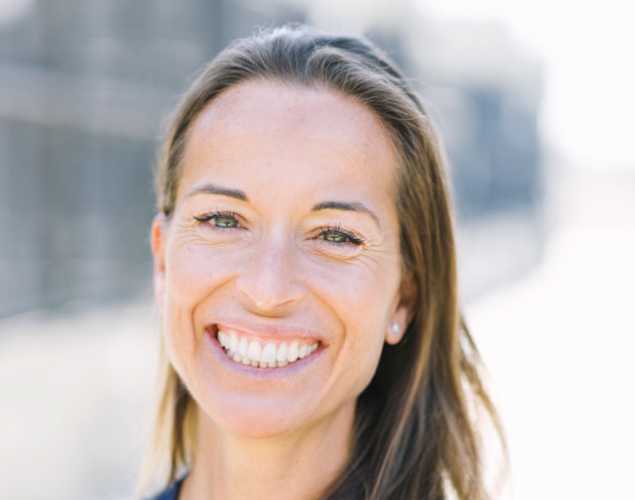 Sophie Guarasci, RVT
Animal Husbandry Manager
Every day I feel privileged to work with and learn from the amazing animals that we treat. They have so much to teach us about their world and the impact that humans are having on the ocean we share.
Sophie Guarasci traces her career path back to a volunteer position she held at The Marine Mammal Center in 2004. Following successful careers in investment banking and fashion design, Sophie's volunteer work inspired her to pursue her lifelong passion for animals and become a licensed veterinary technician.
Hired at The Marine Mammal Center in 2010, Sophie's role as Animal Husbandry Manager involves overseeing the daily clinical care and husbandry of patients, performing patient physical exams and providing surgical assistance, as well as supervising and training students and volunteers in marine mammal care.
Sophie's expertise in pinniped husbandry allows her to provide consultation to marine mammal rescue facilities, zoos and aquariums around the globe. Sophie is also actively involved in field research to advance global ocean conservation, including strong partnerships with NOAA, as well as leading efforts to disentangle marine mammals both locally and internationally, most notably in Mexico.
Prior to working at The Marine Mammal Center, Sophie worked for 10 years in institutional equity sales, rising to the position of Vice President at J.P. Morgan in London. Upon moving to San Francisco, Sophie worked in fashion design at GAP's Athleta headquarters in Petaluma.
Sophie received her bachelor's degree from the University of Cambridge, UK, her Associate of Arts degree in fashion design at FIDM, San Francisco, and completed her veterinary technician license in Davis, California. Sophie is fluent in Italian, Spanish and French.
An avid animal rescuer since childhood, Sophie co-founded the first dog shelter in La Paz, Mexico. She enjoys kitesurfing and resides in Sausalito, California, with her husband and four rescue dogs from Mexico.
Areas of Expertise
Marine Mammal Husbandry
Field Research
Conservation
Volunteer Training and Management
---
Talk to Our Experts
Our experts are available to comment on a variety of marine mammal and ocean health issues. Please contact our PR team at media@tmmc.org to schedule an interview.