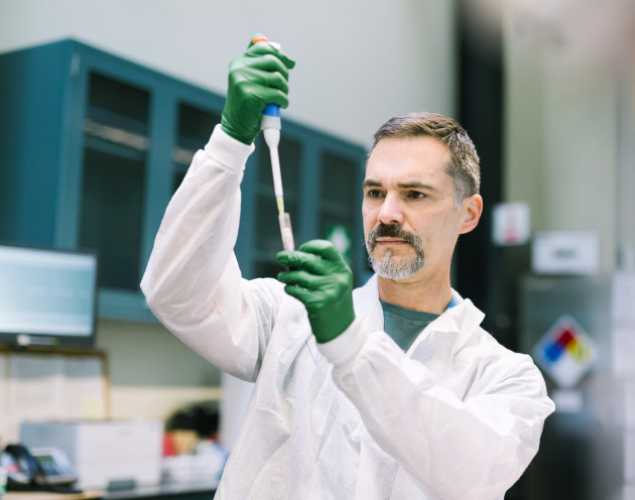 News Update
Marine Science Careers: Meet Clinical Lab Scientist Carlos Rios
September 8, 2021
Ever wondered how to become a clinical laboratory scientist? Learn what it takes and find out how Carlos Rios uses his role to advance global ocean conservation through science and research.
As the world's largest marine mammal hospital, The Marine Mammal Center cares for hundreds of animals each year, all with varying conditions. This gives us a unique opportunity to learn from our patients and gain critical insights into our ocean's health.
Clinical Laboratory Scientist and Manager Carlos Rios, CLS, ASCP facilitates many of our learnings through processing and analyzing samples from our marine mammal patients. Carlos' contributions go beyond our hospital, too. Through collaborating with outside institutions on research projects and training Teaching Hospital participants who come from around the world to learn from our experts, Carlos plays a critical role in advancing global ocean conservation.
As a teenager, Carlos' interest in science was ignited thanks to his older brother's influence. He dreamt of becoming a teacher, doctor or marine biologist.
It was during Carlos' time in college that he discovered his favorite subject to be laboratory science, inspiring him to pursue the field as a career. He went on to earn a bachelor's degree in biology and Clinical Laboratory Science Certification from the University of the Sacred Heart in San Juan, Puerto Rico.
Working in hospital settings, such as Stanford Hospital and Clinics, and Minneapolis Children's Hospital, Carlos began his career performing laboratory analysis directed to human health. Little did he know that years later he would later be able to combine his passion and skills with his dream of working in marine biology and apply them to the world of marine mammal health.
When moving to the Bay Area, it was Carlos' partner who discovered the Center was in search of a laboratory scientist. "I was a little apprehensive about applying since I had never worked with animals before," Carlos says. "But when I came for the interview, I fell in love with the people and the work they were doing. I knew I wanted to be part of it." Sixteen years later, Carlos is still here.
Since day one, Carlos has been the Center's Clinical Laboratory Scientist and Manager. Back then, he was a one-man-show, processing samples, creating laboratory protocols and budgets, as well as maintaining the overall quality assurance of the laboratory.
Today, the laboratory has expanded with Carlos leading a team of scientists.
As hundreds of marine mammals come through our hospital doors during an average year, Carlos and his team process thousands of samples collected from our patients, helping to generate research findings and scientific outputs at volumes similar to an academic research laboratory. Samples such as blood, tissue and fur are analyzed for hematology, biochemistry, microbiology, parasitology and urinalysis.
I love working with our team learning about these amazing animals. Every animal that comes through our gate teaches us so much about their health and how we can apply that knowledge to advance ocean conservation.
Results from these samples that Carlos and his team process support our clinical and pathology teams in identifying diseases and pathogens, investigating the reasons why marine mammals strand and determining how these factors are connected to ecosystem and human health.
In fact, research from our scientists has revealed information about underlying causes of disease in marine mammals, such as a high prevalence of cancer rates in sea lions and the impacts of biotoxins on wildlife, which has informed how we treat these diseases.
Recent Research Publications
Outside laboratories and institutions also request samples from our patients for diagnostic and research purposes. As a member of the Center's research team, Carlos collaborates with these groups to process and ship their requests.
Some of Carlos' proudest moments from his time at the Center include adding new instruments to the laboratory and reinstating the microbiology department, which expanded our ability to perform in-house diagnostic tests.
Prior to this, samples were sent to outside laboratories. It would take a day or so for results to come in, which delayed treatment for our patients. Now with these new tools and systems, Carlos can provide our veterinarians with same-day test results, helping to give our patients the best possible care.
In addition to processing samples and managing the laboratory's quality, Carlos uses his role to train and mentor the next generation of scientists—from students and professionals who visit the Center as part of our Teaching Hospital to scientists who work with him in our laboratory.
Carlos' favorite part of his role is working in the laboratory, running samples and looking under the microscope to investigate which microorganisms are responsible for different infections and to learn new things from the animals we care for. "I liked science growing up so, this career was a perfect match for me. It is funny that now I have been able to combine what I really like doing with a dream I once had of being a marine biologist. I couldn't ask for anything better," Carlos says.
What's Carlos' advice for someone who wants to work as a clinical laboratory scientist? "If you are passionate about science, go for it. Whether you're in school or not, do the research and find out more about what opportunities are out there that combine science and conservation," Carlos says. "Don't pigeonhole yourself in one thing within your profession—learn everything you can and expand your knowledge."
You Too Can Make a Difference
You can be an advocate and champion for ocean health—a voice for the marine mammals you care about—and inspire a sea of change to protect the ocean's future.
Do You Want to Be a Clinical Lab Scientist?
What kind of education is needed?

If you're in high school, be sure to have a solid grasp of and interest in biology, chemistry and math as that will build the foundation for a career in clinical laboratories science.

As an undergraduate at an accredited institution, you will want to pursue a bachelor's degree in a subject like clinical laboratory science, biomedical science, biology or biochemistry to gain the relevant knowledge and experience.

Some states and jobs require certification in clinical laboratory science in addition to a relevant bachelor's degree. There are many different certification programs that are offered both online and in-person. You can find more information with the American Society of Clinical Pathologists and the American Society of Clinical Laboratory Science, both of which Carlos is a member of.

If you are not a recent college graduate and are wanting to join a certification program, be sure to research any prerequisites the program might require. Depending on how long it has been since you graduated, you may need to complete prerequisites prior to starting the certification program.
What kind of real-world experience is needed?

Hands-on experience, whether it's through an internship or volunteer work, is crucial. In high school and college, be sure to reach out to teachers and professors to find out how to get involved in a laboratory or on a research project.

If you are not in high school or college, there are still ways you can gain hands-on experience. Seek out internships and volunteer opportunities at a local hospital or laboratory. One thing to note is that part of the certification program will include an internship at a hospital, where you will be exposed to all areas related to laboratory science.

Not only will you develop practical knowledge through these hands-on experiences, but you will also gain connections that can be helpful when it comes time to look for a job.
What kind of careers are available?

Clinical laboratory scientists have many options when it comes to the kinds of careers available. You can work in a human or animal hospital setting, a privately owned clinical laboratory, a research laboratory, a blood bank, in a pharmaceutical setting, and even as tech support for troubleshooting laboratory instruments.
Yes, I want to save a life!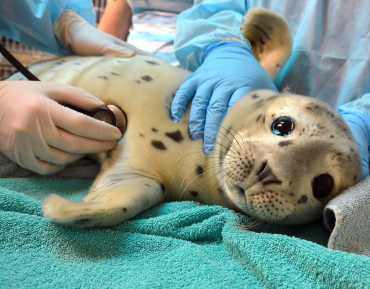 Yes, I want to save a life!
You'll be giving sick and injured animals the best possible care at the Center's state-of-the-art hospital. With your gift today, you are giving a patient a second chance at life in the wild.