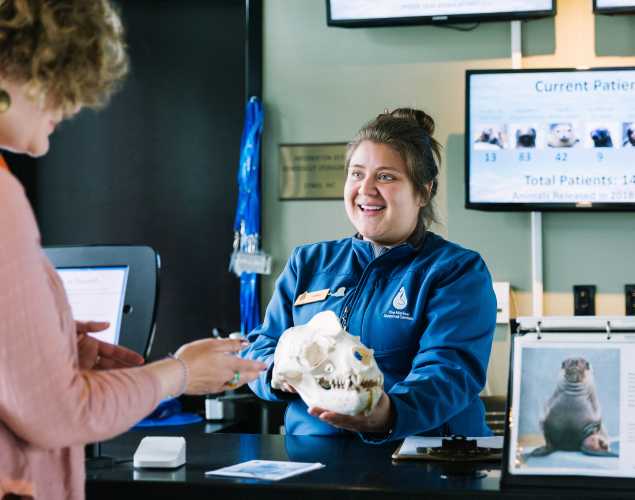 News Update
Marine Science Careers: Meet Environmental Educator Laura Gill
March 19, 2021
Ever wondered how to become an environmental educator? Learn what it takes and find out how Laura Gill uses her role to inspire children and adults alike to advance global ocean conservation.
The Marine Mammal Center is the world's largest marine mammal teaching hospital—during a typical year, we host hundreds of students and professionals from around the globe who come to study alongside our experts.
Not only do veterinarians and scientists come to hone their skills at the Center, but thousands of children and adults can also become immersed in this critical conservation work.
From Marine Mammal Mondays, our free virtual presentations on ever-changing topics, to Online Learning Resources, at-home activities created by our award-winning educators, to Camp Sea Quest, our virtual summer camp for aspiring marine scientists, to Ocean Conservation Leaders, our online leadership program for high school students—there are so many ways for people of all ages and backgrounds to connect with ocean conservation.
As the Center's Community Engagement Manager, Laura Gill (who you might recognize as the host of Marine Mammal Mondays!) creates and implements many engagement opportunities for people like you to learn about and connect with marine mammals and our ocean.
We are all interconnected and dependent on a healthy ocean. It's my hope that through our work we can inspire and empower communities to take action and protect this precious resource.
Laura has always had a passion for conservation. She knew from a young age that she wanted to pursue marine biology. In fact, Laura can pinpoint a particular experience that fated her to environmental education.
At just 13 years old, Laura participated in a volunteer trip to Costa Rica, where she worked with local marine biologists to relocate vulnerable sea turtle eggs to safe locations. As the only Spanish speaker among the group of volunteers, Laura took on the role of translating the science to her fellow sea turtle lovers. Guiding the two groups (the marine biologists and the volunteers) toward their shared vision of saving those sea turtles sparked a sense of enthusiasm that Laura could not ignore.
She later joined her ocean-loving peers in her undergraduate studies, earning a bachelor's degree in marine biology. While many people may think that in order to pursue a career in marine biology, you must become a researcher or veterinarian, Laura knew that the right path for her was education.
As she transitioned from academia to the working-world, Laura began her journey at small pier-end aquariums. It was during her time at Aquarium of the Bay and the Sea Lion Center at San Francisco's PIER 39 that she learned about and collaborated with the Center.
Inspired by our work in science, research and education, Laura eventually joined our staff where she leads tours, creates public education programs, works with our volunteers and so much more.
In recognition of her outstanding work, Laura was recently selected as a Fellow within the National Informal STEM Education Network Sustainability Program, a highly selective community of informal educators and scientists dedicated to supporting learning about science, technology, engineering and math (STEM) across the United States.
If you, or someone you know, aspire to be an environmental educator like Laura, she offers a bit of advice: work at a variety of organizations to see the different approaches to environmental education. "These diverse perspectives can be very helpful in becoming an effective messenger and educator. It is also a great way to network, receive professional development and build up a resume," Laura says.
She also encourages being proactive in leading programs and taking advantage of every opportunity to practice public speaking. "This is such an essential skill in this field that will make you stand out, and it can only be perfected with practice," Laura adds.
Virtual Learning Opportunities at The Marine Mammal Center
For those who simply want to inspire friends and family to take action to protect our ocean, Laura says that having these conversations often and normalizing ocean-friendly actions is most effective.
For example, a viral video of a sea turtle having a plastic straw removed from its nostril, which helped spark the "skip the straw" movement, inspired conversations between Laura and her loved ones.
"Anyone who knows me knows that I love sea turtles, so when I talked to my friends and family about that video, and the importance of refusing single-use plastic straws and supporting bans of single-use plastics in general, they started to notice my actions. As I refused plastic straws in front of them opting for my reusable straw instead, my friends started to follow suit, eventually skipping the straw as well," Laura says.
"Now strawless options are the default for a lot of huge companies, which makes it easier to take ocean-friendly actions. And to think it all started from groups of friends across the country having conversations about straws and making their voices heard."
Whether Laura is engaging with her loved ones or the Center's visitors, she lives for the "ah-ha" moments when they see how everything is interconnected. "Children are our future leaders and ocean stewards, so it's important that they connect with our ocean and see its value not just for what it provides us, but also for what we can learn about its health and human health," says Laura.
And it's not just children that she aims to inspire. In fact, adults have approached her after a tour to say that if they could go back in time, they would have pursued a career in ocean conservation. But no matter where you are in life, you have the power to inspire others, on a professional or personal level, to join you in advancing global ocean conservation and protecting our ocean for future generations.
You Too Can Make a Difference
You can be an advocate and champion for ocean health—a voice for the marine mammals you care about—and inspire a sea of change to protect the ocean's future.
Do You Want to Be an Environmental Educator?
What kind of education is needed?

Marine science education is a very large and interdisciplinary field, meaning the college major that's best really depends on the role you're pursuing. Generally, a Bachelor of Science focused on environmental studies, or marine biology if you're more focused on marine life, is a great way to acquire the knowledge you'll likely need to be familiar with as an environmental educator.

However, Laura advises that specific coursework is much more important. Courses relevant to marine biology, ecology, animal physiology, sustainability, conservation psychology, behavior change, environmental justice, climate change, program evaluation, exhibit design and interpretation, and communications can help set a strong foundation. Even courses like performing arts, which can help hone your public speaking skills, and graphic design can be beneficial as an environmental educator.

For those who have already graduated or are thinking of switching careers, there are many ways to get experience in these areas without a formal degree. A lot of Laura's professional development has been on the job through taking graduate-level courses, attending conferences, and participating in workshops, fellowships and collaboratives. Be sure to ask your employer about professional development opportunities available to you.
What kind of real-world experience is needed?

Experience in areas such as teaching, public speaking, storytelling and customer service can be just as important as a formal degree. Try to volunteer or intern at organizations like zoos, aquariums, nature centers, museums or wildlife rehabilitation centers like The Marine Mammal Center for that experience. As you gain experience, not only will you be better prepared and more qualified, but you'll also get a sense of what area of environmental education you are most interested in.

However, if you aren't able to volunteer or intern, there are lots of skills that transfer from more common paid jobs. For example, anyone who has worked in retail or as waitstaff has valuable experience in customer service that can be easily transferrable as an environmental educator.

Additionally, programs like Toastmasters or debate club are great ways to hone your public speaking skills.
What kind of careers are available?

With environmental education being such a large and interdisciplinary field, there are many directions you can take. Career paths such as working with schools, writing curriculum, lecturing as a guest, guiding tours, leading outdoor education or "immersion" programs, supervising volunteers, planning events and programs, developing communications, working with exhibits, fundraising, strategizing and planning, and so much more are available to those who pursue this field.

Each organization will have different names for these careers—look for titles such as "public programs coordinator," "education specialist," "curator" or "naturalist."
Yes, I want to save a life!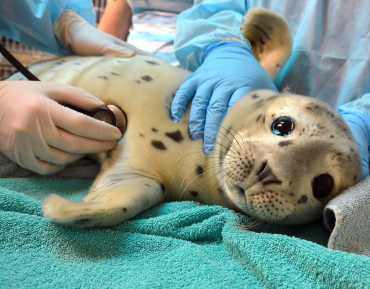 Yes, I want to save a life!
You'll be giving sick and injured animals the best possible care at the Center's state-of-the-art hospital. With your gift today, you are giving a patient a second chance at life in the wild.
marine science careers

Laura Gill