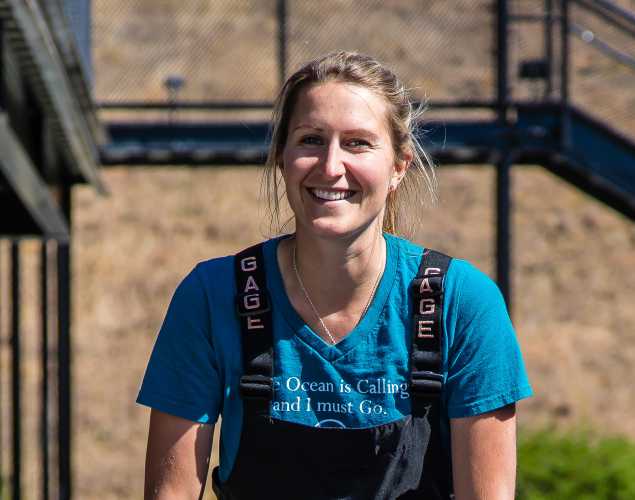 Sophie Whoriskey, DVM
Hawaiian Monk Seal Conservation Veterinarian
We have learned so much from the marine mammals we've cared for in our California response range. That gained experience and knowledge has played a critical role in how we care for a complex, endangered species like the Hawaiian monk seal.
Dr. Sophie Whoriskey first came to The Marine Mammal Center in 2015 as the intern veterinarian in marine mammal medicine and pathology where she spent two intensive years training under the Center's marine mammal medicine experts. She returned full time to the Center as the Hawaiian Monk Seal Conservation Veterinarian in 2020. She leads the Center's Hawai'i animal care operations, dedicated to the rehabilitation, conservation and research of the endangered Hawaiian monk seal.
Sophie has extensive field experience in remote and harsh environments and has participated in research projects from Alaska to Antarctica, all with a mission of advancing the global body of knowledge on marine mammal health. Prior to her position in Hawai'i, Sophie was an associate veterinarian at the California Academy of Sciences where she cared for a unique collection of reptiles, birds and fish. She also continued to serve as a part-time veterinarian at the Center, taking care of hundreds of stranded pinnipeds along the California coast.
Sophie received her bachelor's degree from Dalhousie University in Nova Scotia, Canada, and her veterinary medical degree from the Atlantic Veterinary College.
Residing in Kona, Hawai'i, Sophie lives with her partner and two large dogs.
Areas of Expertise
Wildlife Health
Conservation
Marine Mammal Medicine
---
Talk to Our Experts
Our experts are available to comment on a variety of marine mammal and ocean health issues. Please contact our PR team at media@tmmc.org to schedule an interview.