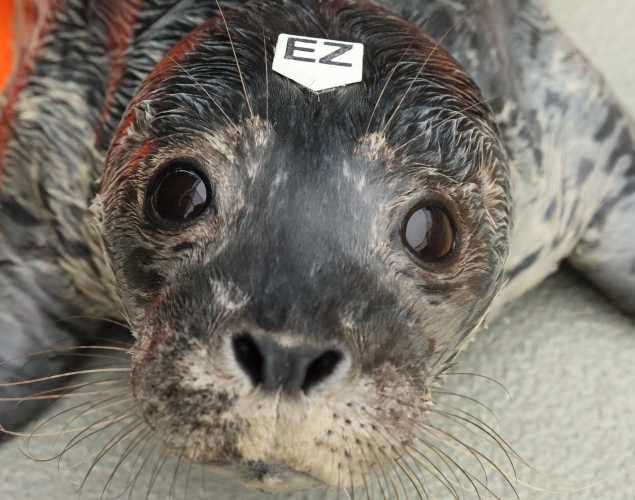 News Update
New Hat Tags Improve Animal Care While Leading the Way Toward a Greener Future
July 8, 2021
The Marine Mammal Center has upgraded its hat tags, an important tool that helps animal care experts identify patients receiving medical care at our hospital.
The new hat tags not only offer an improved experience for both animal care experts and marine mammals alike, but also address the issue of ocean trash.
From installing solar panels and electric car chargers at our main hospital to switching to greener packaging in our Gift Store, at The Marine Mammal Center we are committed to a greener future for marine mammals and people alike. What's our most recent ocean-friendly upgrade? Those things you see on our seal patients' heads: hat tags.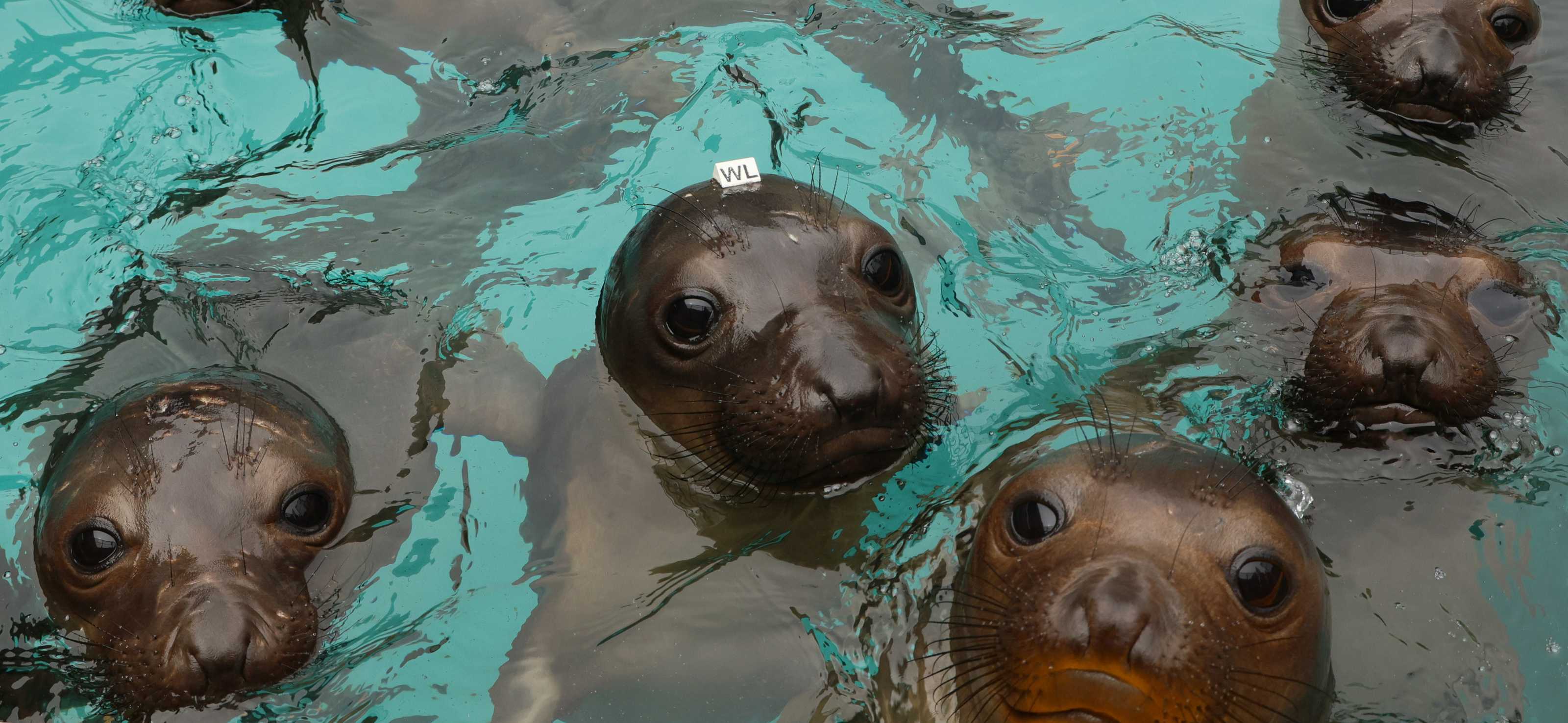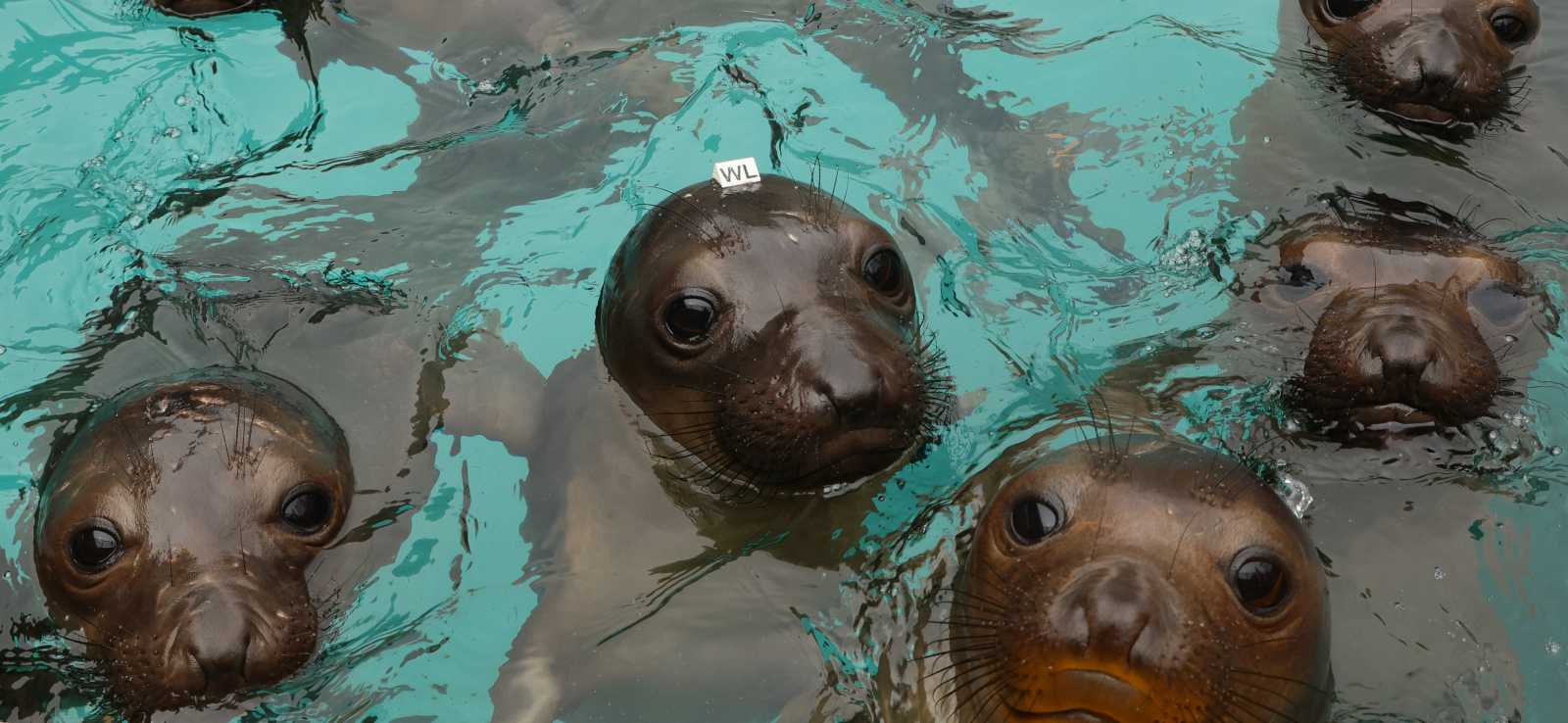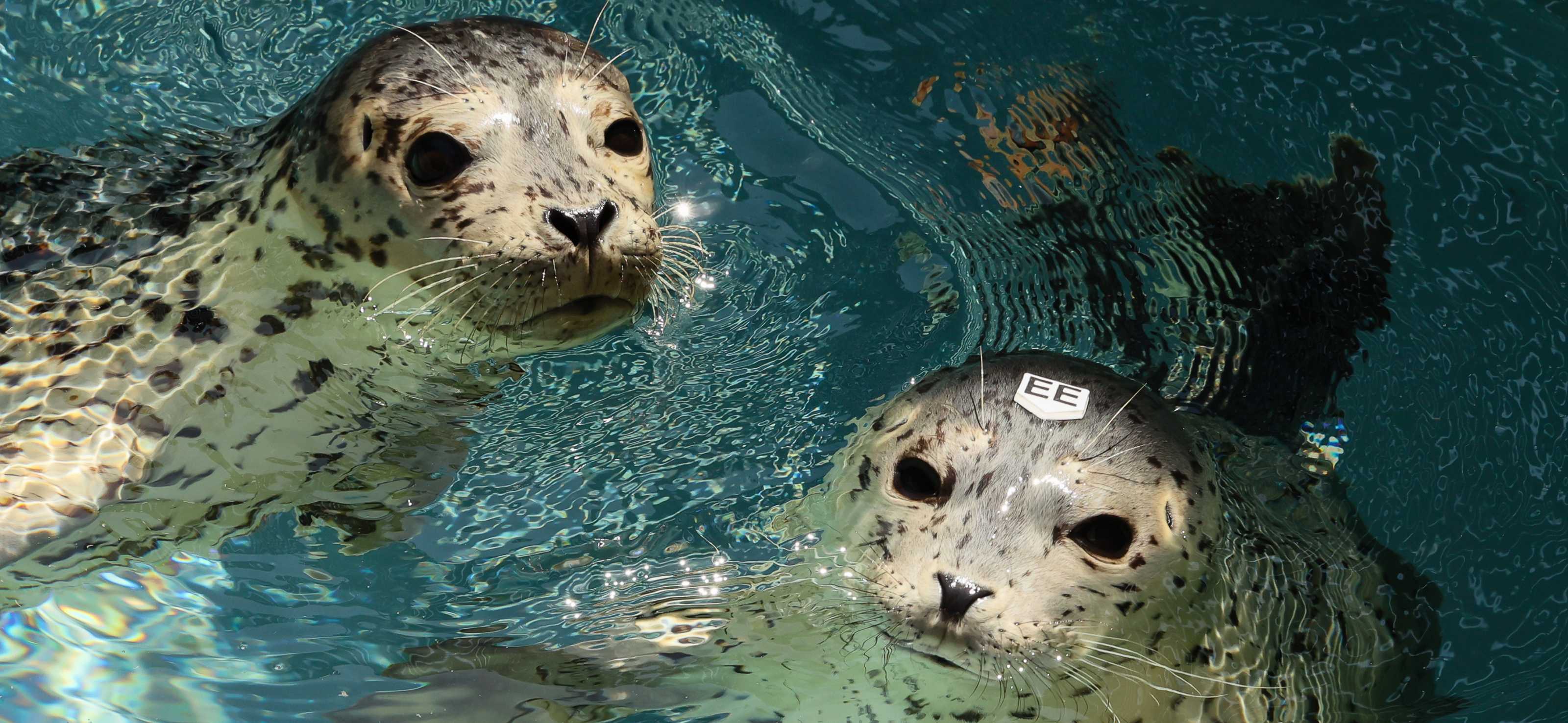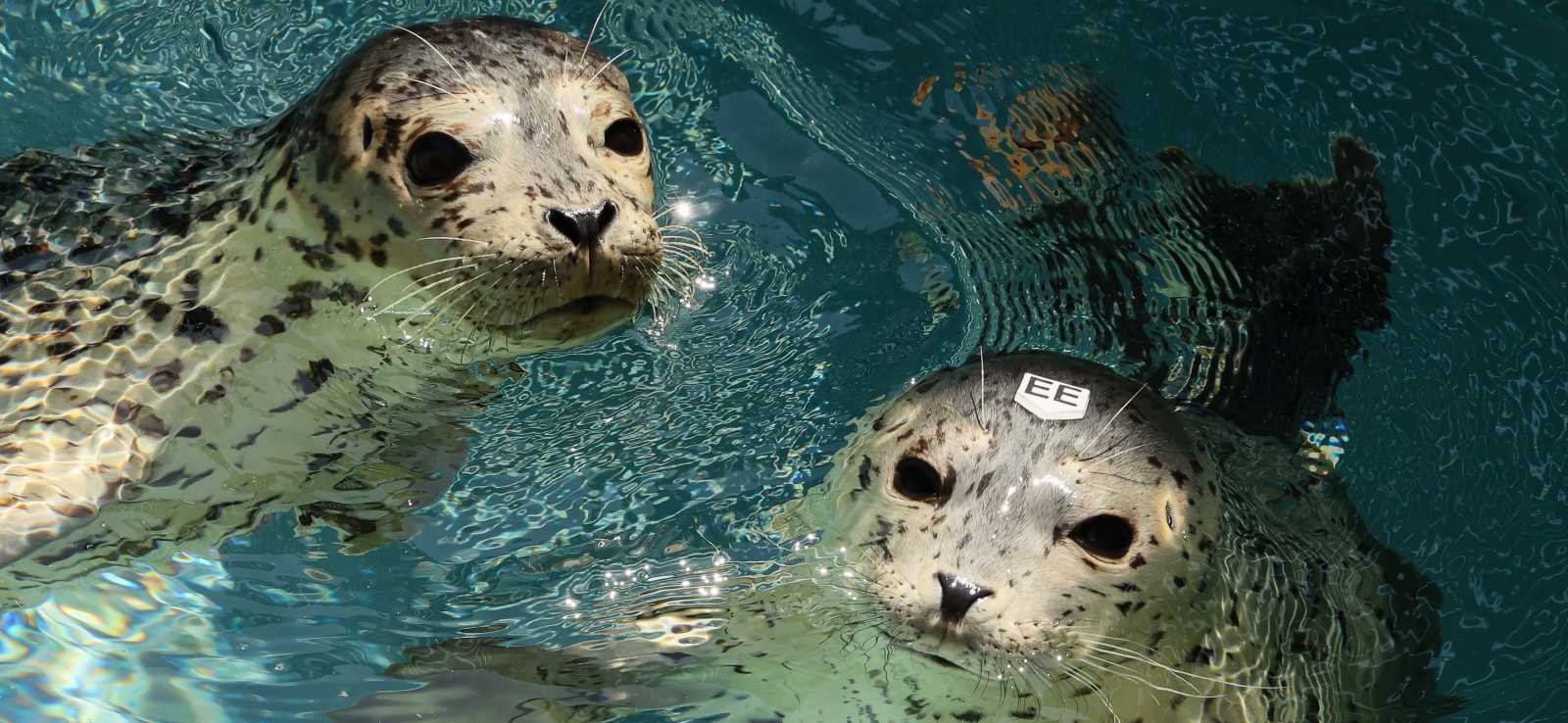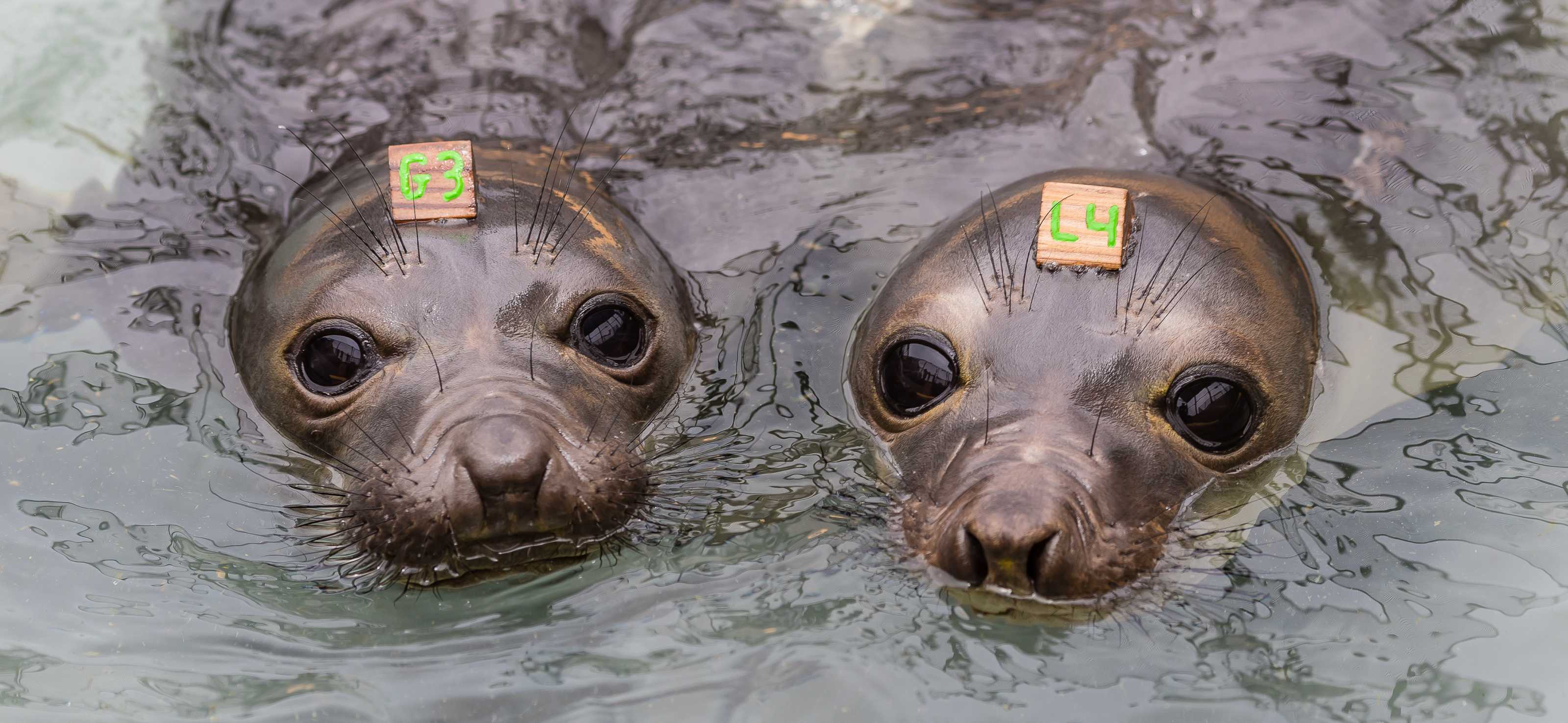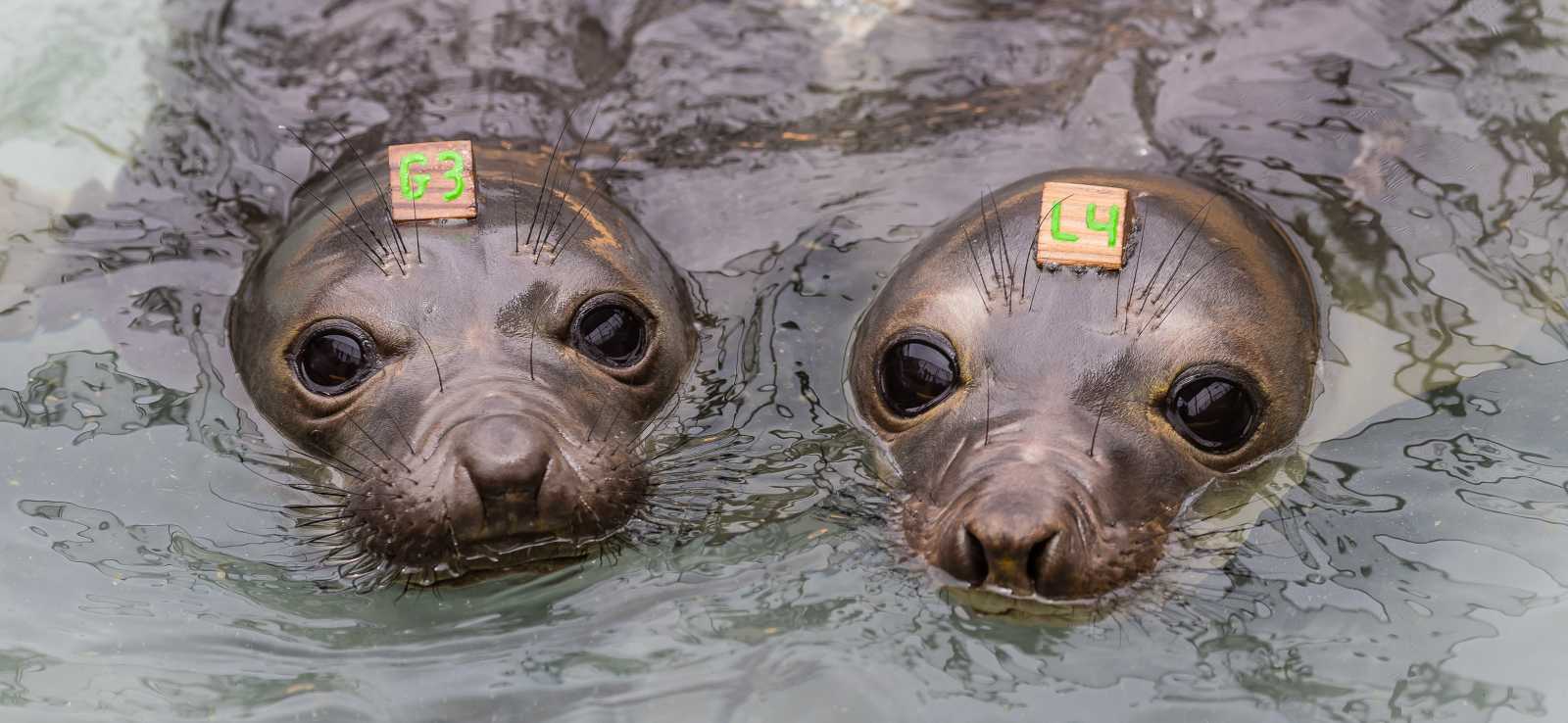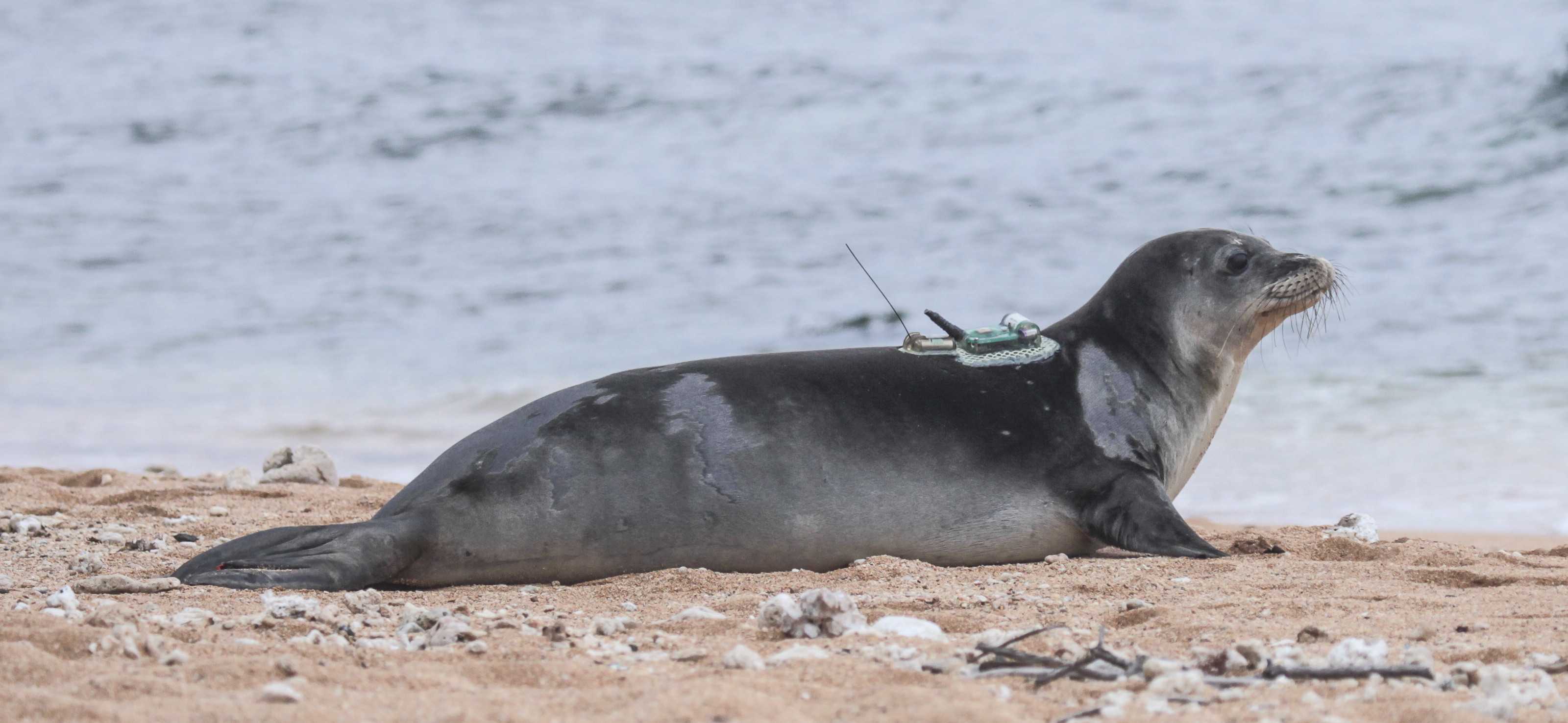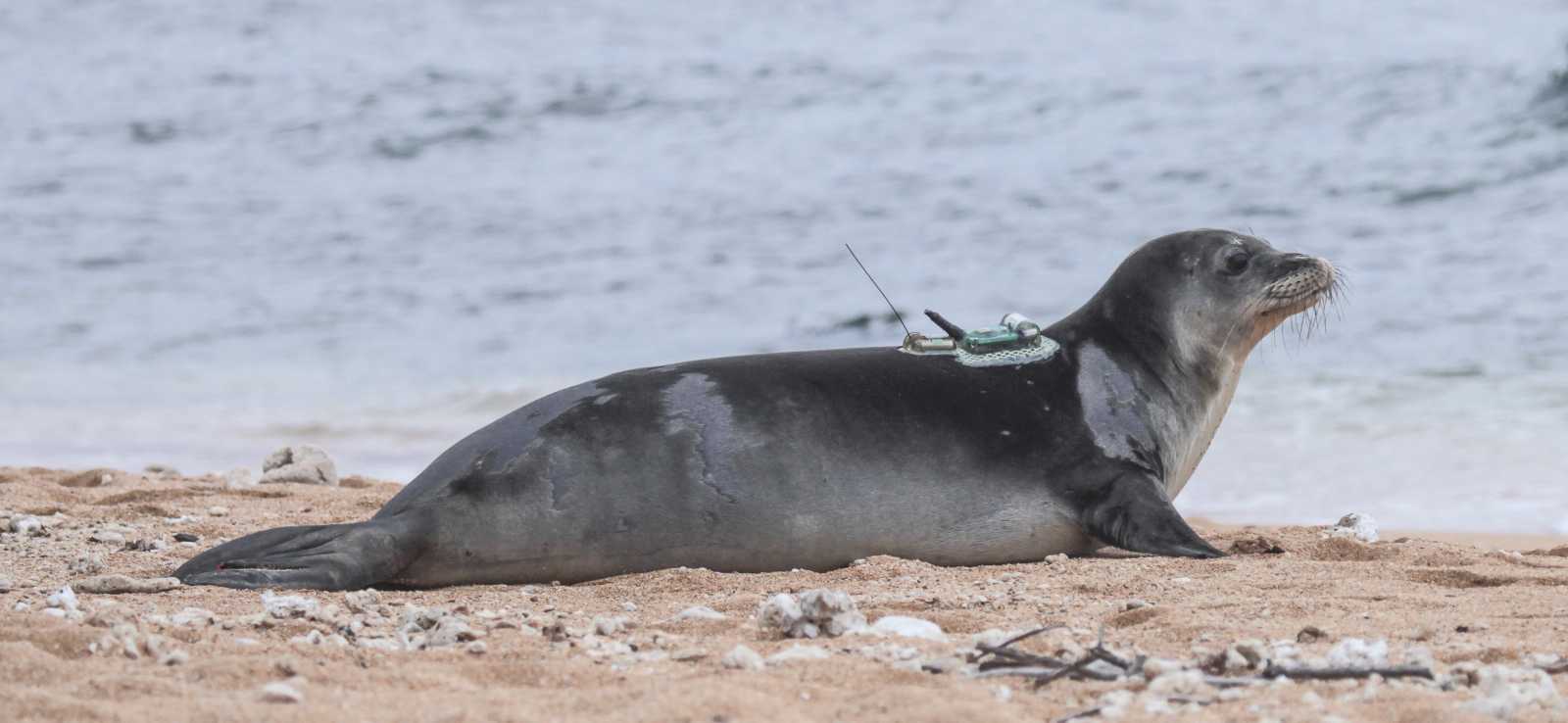 Imagine our hospital at the busiest time of year when there can be 100 or more marine mammal patients onsite at one time. It's lunchtime for the patients, and along with their fishy meals, specific medications must be given to specific animals as part of their treatment regimen.
But in a single pen there can be five or six seemingly identical seals resting on the pen floor or swimming in the pool. So how do our animal care experts know which patient gets which medication?
You wouldn't be the first person who would find it challenging to identify individual patients in that setting. That's why our experts implemented the use of hat tags a number of years ago.
A hat tag's most basic function is to help our animal care experts spot an individual patient with ease. These specialized tags are etched with a unique letter and/or number combination, which is then logged in the patient's medical record, and placed on top of its head with animal-safe glue.
The prominent placement of these tags allows our experts to quickly identify animals and administer the right nutrition and medications. It's beneficial to our patients that our staff and volunteers spend as little time in the pens as possible in order to reduce the animals' stress and their risk of becoming accustomed to humans.
Our hat tags have gone through several iterations since they were first implemented. Starting out as brightly colored pieces of plastic, hat tags eventually shifted to wooden blocks handcrafted by our volunteers. But these hat tags were quite labor-intensive to produce.
Each wooden hat tag was handmade by a volunteer start to finish, from cutting the block down to the right size and shape, to hand-carving the grooves where the identifying letter and/or number combination was painted in.
Our animal care experts suspect that the wooden hat tags were labor intensive for our seal patients too. These hat tags were quite large relative to a young seal pup's head. Plus, the broad surface area and buoyant nature of the wood likely undermined a patient's hydrodynamic qualities, potentially making it tougher for a young seal pup to dive, especially when they are already sick or injured.
Motivated by the desire to improve rehabilitation practices, our marine mammal experts recently collaborated with a Silicon Valley-based conservation technology organization, Planetary Health Solutions, to create the latest version of our hat tags.
Generously donating their time and resources, Lisa Winter at Planetary Health Solutions and Dr. Chip Breitenkamp, who specializes in advanced material science, worked with our experts to reimagine the hat tag and experimented with several different eco-friendly materials and seal-friendly designs using a 3D printer.
"Some aspects we focused on were visibility and clarity of the ID, comfort of the animal and environmental health," Lisa said. "I even attached one of the tags to an elephant seal myself so that I could better understand the tagging process."
After testing and tweaking the design, our experts landed on a final version and Lisa put her 3D printer to work, providing our hospital with hat tags for incoming pups.
"When I get a request for more tags, I open the 3D model, edit the ID text, export the files and place it into a 3D model slicing program so it can be ready for my 3D printer," Lisa explains. "I'll print about six to 10 tags at a time and repeat this process until I end up with 30 to 100 tags. The 3D printer lays down layer after layer of spaghetti-like printing material that fuses together to form one object. I specifically purchased a 3D printer that can print two different materials on the same print, which is how I'm able to print black text on a white hat tag."
Slim in design and easy for an animal care expert to read (even if a patient is under water!) with its contrasting color scheme, these upgraded hat tags offer a promising combination of size, weight and biodegradability. Animal Husbandry Manager Sophie Guarasci comments "the new designs are a big hit with staff and volunteers as they're so much easier to read at a distance." The enhanced readability is especially helpful to our nighttime animal care crews, who care for the animals in a dimly lit setting.
The new designs are a big hit with staff and volunteers as they're so much easier to read at a distance.
Once our animal care experts have helped a patient regain its strength and acquire the survival skills needed for life in the wild, the animal is released back to its ocean home with a second chance at life—and sometimes still donning its hat tag. From 2018 to 2020, 68 percent of elephant seal and harbor seal pups were released wearing hat tags. But this tag won't stay attached to the seal forever. When the seal sheds its fur, or molts, their hat tag will fall off, leaving no lasting mark.
As you can imagine, the biodegradability of a hat tag is crucial as ocean trash is one of the main threats facing marine mammals and our ocean today. These new hat tags are made from a material derived from renewable resources like corn starch, and when it degrades it turns into lactic acid, which is non-toxic.
Even though the hat tag material eventually dissolves and is non-toxic, one of my goals is to use as little material as possible.
"Even though the hat tag material eventually dissolves and is non-toxic, one of my goals is to use as little material as possible," Lisa says. The latest design for harbor seals is less than one-eighth of an inch thick and weighs next to nothing.
Our elephant seal and harbor seal patients aren't the only ones released with special tags. All of our patients receive bright orange flipper tags with identification numbers that allow us to track individuals when they are spotted again in the wild. This also ensures that if a patient ever needs rescue a second time, we have a full health record to help inform the animal's care.
Some patients also receive additional tracking devices, such as satellite tags attached with a special glue to their fur. The Center was the first to begin implanting life history tags in sea otters, a tag that can tell researchers when, and sometimes how, an otter dies after being released back to the wild.
Due to the costs of these more advanced tags, they are typically reserved for threatened species like Guadalupe fur seals and southern sea otters. By tracking these patients out in the wild, our researchers are able to learn more about how these animals use their ocean environment and help inform conservation efforts.
As the world's largest marine mammal hospital, we strive to not only incorporate environmentally friendly practices into all aspects of our work, but we also continually improve our rehabilitation practices to ensure that sick, injured and orphaned marine mammals receive the best possible care.
You Can Make a Difference
You can take simple steps in your everyday life to be an advocate and champion for ocean health.
Yes, I want to save a life!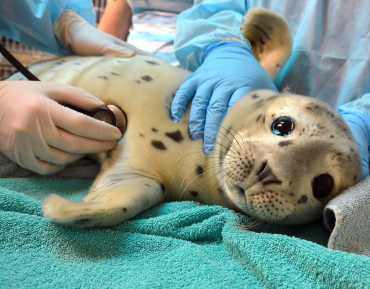 Yes, I want to save a life!
You'll be giving sick and injured animals the best possible care at the Center's state-of-the-art hospital. With your gift today, you are giving a patient a second chance at life in the wild.
ocean trash

Sophie Guarasci

Harbor Seal
Northern Elephant Seal