Hawaiian Monk Seal Conservation
With over 45 years of experience working with marine mammals, our efforts in Hawai'i are critical to saving this endangered species.
Researchers estimate about 30 percent of Hawaiian monk seals are alive today directly due to conservation efforts. This life-saving work is possible thanks to support from compassionate people like you.
How You Can Help
You can take action in your daily life and community to help save this endangered species, no matter where you live.
Taking Action at The Marine Mammal Center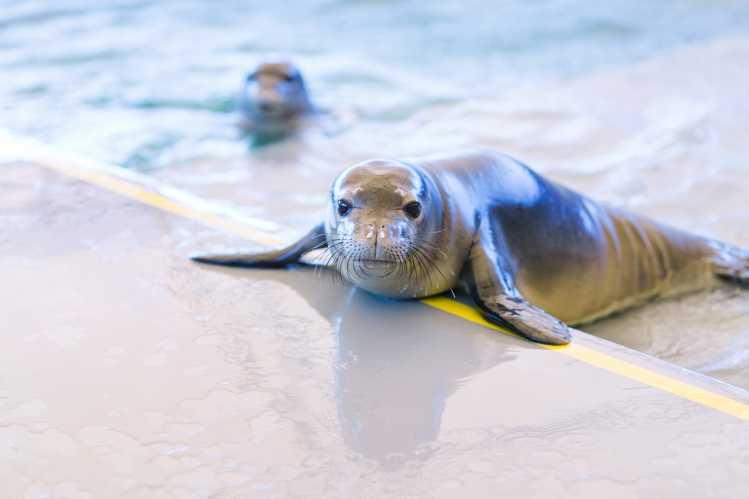 The endangered Hawaiian monk seal is one of the rarest seal species in the world, and conservation efforts are critical to their survival. Through direct animal care, community outreach, education and response, our dedicated staff and volunteers in Hawai'i are working to save a species.
On Hawai'i Island, we operate the only hospital dedicated to Hawaiian monk seals, Ke Kai Ola. Our team of experts relies on the Center's many years of experience in marine mammal medicine and health to treat monk seals so they can be released back to the wild.
The Marine Mammal Center is the lead responder for Hawaiian monk seals on Hawai'i Island, and we operate a 24-hour hotline at 808-987-0765. Every sighting reported provides valuable information to researchers, and our response teams are ready to respond if an animal needs emergency care.
We also work with organizations in Hawai'i to support fishing communities in a transition to barbless hooks, a fishing method that drastically reduces the risk of damage if a Hawaiian monk seal becomes hooked.
Mahalo Nui Loa to Our Supporters and Partners
Mahalo nui loa to our many foundation, business and individual supporters in Hawaii and off island. And special thanks to NOAA, the NOAA Pacific Islands Fisheries Science Center, Regional Office and the Hawaiian Monk Seal Research Team for their critical support and partnership.
Ke Kai Ola is a member of the Kuleana Green Businesses, a program that promotes ethical business practices and environmental stewardship throughout Hawai`i. Program members understand their kuleana (right and responsibility) to generate positive impacts in their social and natural environments.